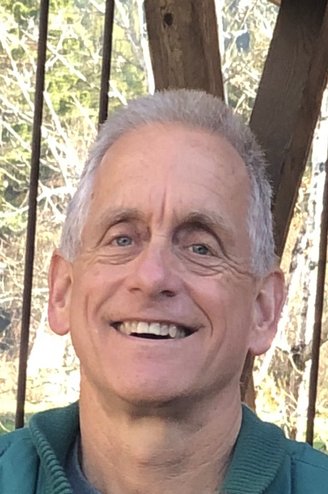 Thomas Robert Coriell was born on March 18, 1947 in Philadelphia. Tom passed away on September 17, 2021 at Stanford Hospital in Palo Alto at the ripe young age of 74, with his wife and family at his side.

He lived in Arcata and spent most of his weekends and summers at Five Waters Ranch among the forests and peaks of the Trinity Alps. Tom passed away from complications following a surgery related to cancer. He was otherwise incredibly healthy and young at heart. Tom's untimely death was not related to any COVID complications.
TOM'S LIFE
Tom grew up in the Philadelphia and New Jersey area, with loving parents and two brothers, Jim and Steven. Tom was a popular kid in the neighborhood and played both linebacker and quarterback on his high school football team. He went to Earlham College in Richmond, Indiana, where he met his wife Marilee "Mellie" Coriell. Tom and Mellie were married on June 6, 1969 and enjoyed fifty-two years of marriage.
After college they traveled to the west coast and lived for a time in Seattle. They then worked their way down the coast until they discovered Arcata in 1970. They settled down in Arcata in 1971, raising their two sons Stein (born 1974) and Bryn (born 1976) in their beautiful Victorian home. Tom and Mellie bought a 200-acre remote wilderness property in Trinity County in 1972, co-founding the beloved Five Waters Ranch. They were soon joined in this endeavor by Mellie's siblings Roger, Marjie, and Bob.
TOM'S CAREER
Tom believed a great deal in the importance of education. Whether advising on the pursuit of a graduate degree or teaching his grandchildren and other students, it was his primary mission in life.
Tom had a long career as an educator, working at Fieldbrook school as a Kindergarten and 1st grade teacher, at Sunny Brae Middle School as principal, and ultimately as a School Psychologist in San Francisco and for the Humboldt County Office of Education. Tom earned no less than three Master's degrees related to his profession and was entirely dedicated to helping the youth of Humboldt County to be as successful as possible in all aspects of their lives. In addition, he mentored many new school psychologists in San Francisco and in Humboldt County.
TOM'S LEGACY
People describe Tom's personality with words like peaceful, playful, kind, and friendly. Tom was thoughtful, gentle, and caring toward the people in his life. He was quick to welcome new family members and visitors, making them feel safe and appreciated.
Tom lived his life with vigor and energy, had the courage of his convictions, and he loved hard work. He would respond to people with eyes wide, eager and ready to start the next project on the spot! Yet he was patient and calm when faced with challenges. He made others feel calm too.
Tom was known to be clear headed, thinking five steps ahead to articulate possible solutions and problems that might arise on any given project. He seemed to have an endless well of excitement about the next task, whether it be facing another day of hard work on the ranch or an afternoon of relaxing by the river, enjoying his book.
It's easy to picture Tom with his bright eyes and infectious smile, and his genuine happiness as he went about his daily activities. That positive outlook was such an inspiration to all. He would greet returning friends with a genuine hug and a hearty "Welcome Home!".
Tom was a calming, stabilizing factor in the lives of so many. He greatly valued careful thinking, peaceful acts, and love of family. He taught these things by example, and those who loved him will carry his wisdom forward.
For decades Tom spent his free time in the rural back country of Trinity County, as a co-founder and tireless supporter of the Five Waters Ranch on New River. He cared with all his heart for the clear streams, vibrant wildlife, and vast forests of this majestic and awe-inspiring place.
As a steward and caretaker of the wilderness, he worked tirelessly on restoration, maintenance, and enjoyment of all the land had to offer. His firewood piles were legendary, and the sound of his axe would ring from dawn to dusk. There was no trail too steep, no brush too thick, or journey too tough for him. Generations of friends have found themselves at home there, their lives inspired and enlivened thanks to Tom's mentorship in the ways of the wilderness. In our mind's eye we see him there still.
TOM'S RELATIVES
Tom was preceded in death by his parents Dr. Lewis L. Coriell and Esther L. Coriell, and his brother Jim. Tom is survived by his wife Mellie Coriell, his brother Steve Coriell, his son Stein Coriell with spouse Aisha and their children Zack and Theo, and son Bryn Coriell with spouse Jennifer and their children Emily, Caden and Collin. He is also survived by in-laws and numerous other family members.
TOM'S MEMORIAL
Tom's ashes will be spread by his family. If you would like to send in any messages, stories or pictures to the family, you can do so at rememberingtomcoriell@gmail.com A celebration of life is being planned for 1 p.m. on March 19, 2022 at Veterans Hall in Arcata.
###
The obituary above was submitted on behalf of Tom Corriell's loved ones. The Lost Coast Outpost runs obituaries of Humboldt County residents at no charge. See guidelines here.