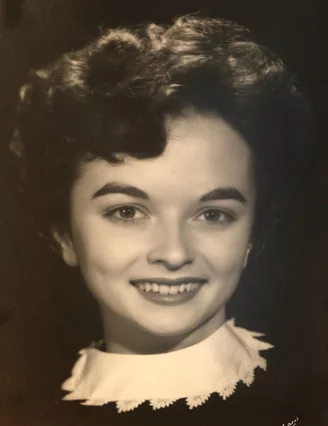 Nancy Cook, 86, passed peacefully surrounded by family on June 23, 2022 in Eureka. There will be no service held at this time. A celebration of life for Nancy is being planned for late spring 2023.

Nancy was born on June 15, 1936 in Lewiston, Maine, to parents Paul James Dumas and Hazel Frances Brawn. Nancy's father worked in the papermill business and eventually moved the family south to Alabama. After high school, Nancy attended Louisiana State University. As a freshman, she was recognized for her beauty and named a darling of LSU. Nancy married her college sweetheart to whom she was married for eighteen years. Although they divorced, they remained supportive of each other and raised four children together. In time, those children gave them eight grandchildren to love and adore.
Nancy's grandchildren remember their Nana for always being ready to play games such as Tiddlywinks, Scrabble, Bananagrams, jigsaw puzzles, and coloring books. Nancy's love of coloring books continued into her last days where she could often be found coloring for hours with multiple family members around the dining table.
In addition to raising her children, Nancy achieved great success in a 17-year public education career in the Tehachapi Unified School District (TUSD) which culminated in her management of the TUSD Personnel Department for the district's 500 employees. Nancy also served as a Director of the Greater Tehachapi Chamber of Commerce, a Director of the Tehachapi Community Counseling Services, a Director of the Mountain Festival Committee and the Chairperson of the Kern County Mental Health Advisory Board. In 1991 Nancy was honored by the Association of California School Administrators (ACSA) as the California Administrator of the Year. ACSA stated that the award was given to Nancy for her "exceptional leadership in managing school programs" and her "commitment to educational quality and student achievement."
Upon her retirement from TUSD, Nancy moved from Tehachapi to Eureka in 1994. She had visited her daughter, Cathy, and grandchildren in Eureka many times and fell in love with the city, including its climate, beautiful forests, beaches, and marshes but above all its people. Nancy quickly became part of the community by attending HSU for many classes including Shakespeare, her favorite. She also hosted an interview show for the HSU radio station in 1998. She loved her bridge group, the Universalist Unitarian Church in Bayside, local theater, and any fund-raising pancake breakfast available.
In her spare time, Nancy loved doing all kinds of needlework including: needlepoint, petit point, knitting and latch hook rugs. Her hands were never idle. When not creating intricate works for her family, Nancy kept busy knitting teddy bears for children in need across the country. Each bear was sent with the tag "With love from Nana" attached.
Nancy is remembered by her friends and family as loving a bit of magic in the world around her and believed in the power of wishes and fairy dust.
She is preceded in death by her brother, Paul J. Dumas Jr. and her parents. She is survived by her brother, Charles L. Dumas; daughter Patty and son-in-law Erling and their son, Sam; daughter Sherri and her daughters: Kristen and Kathryn; daughter Cathy and son-in-law Brad and their children Alexa, Annita, Jim, and Allie; and son Bill and daughter-in-law Laurel and their children Anna Marie and Lodwrick.
###
The obituary above was submitted by Nancy Cook's loved ones. The Lost Coast Outpost runs obituaries of Humboldt County residents at no charge. See guidelines here. Email news@lostcoastoutpost.com.