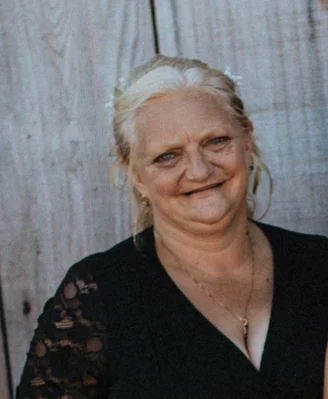 Our hearts are in mourning as Shirley Lavonne Stevens drew her last breath at 7 a.m. on June 27, 2022, after a two-year battle with bladder cancer.

On January 8th, 1968, Shirley Lavonne Stevens was born to Shirley Ann Anderson and Laverne Stevens in Eureka, at the Old General Hospital now known as Sempervirens. She came into this world fast and hard, affectionately referred to as "the caboose" because she was the last born of eight siblings. She often said, to explain her fast-paced lifestyle: "I was born in the nuthouse and raised in Rio Dell." Growing up in her early years she was known for her beautiful blue eyes that filled her face, while later in adolescence she was known for her uncaged spirit.
In 1983 her mother bought her a three-wheeler so she could transport herself to the Rio Dell Café, where she worked as a waitress, but when not working it served as an outlet for her and her friends to "run amok." Shirley would convince her three friends — Rita, Rosa and Lezzlee — to all pile on at the same time to ride up and down the railroad tracks of Rio Dell. As payback Rita would get Shirley to go horseback riding with her. Unfortunately, Shirley always got the horse that would buck her off when he was ready to go back to the barn
Shirley graduated from East High School in Fortuna in 1985. She said: "I got my diploma, my sucker, and I got out of there." Shirley spent a fair amount of her free time waiting tables at Sportsman's Cafe in Rio Dell or loitering at Bertain's Laundry, due to her mother working there. It didn't matter where she was, people knew her. Often she would have to chaperone her older sister Wendy's dates as a third wheel, which at the time caused turmoil but fostered a life-long sisterly bond.
On November 25, 1992, when her son was born. She was a devoted and loving mother. She was never more proud than when he graduated from nursing school, unless you count becoming a grandmother. Unfortunately, her first grandson was born during Covid and she was not allowed in the room … but no one said she couldn't wait outside the window! With her signature mimosas in hand, she gathered family to fellowship outside the same hospital her son was born at to welcome her grandson's first crys! She was whooping, hollering and cheering. She was truly a proud, loving and absolutely doting grandmother!!!
She loved shooting guns, riding anything that didn't have a mind of its own, going to the casino — or "therapy" as she would call it — bingo on occasion, painting rocks to look like "M&M" candies, and beating her oldest brother at cards. The thing that she loved the most was an adventure: whether it was an estate sale, a drive to nowhere, or a hunt for a specific item, she was up for it.
Shirley is survived by her loving life-partner of 20+ years, Wade Peters; her son, Matthew (Valerie) Stevens; her grandsons, Wyatt, Theo and Thoren Stevens; her siblings, Werner Weltsch, Bev (Louie) Gadotti, Mike (Dani) Weltsch, Gloria Dreske, Gilbert (LeAnne) Weltsch, Debi (Russ) Brandt, Wendy (Mark) Hudson, Shellie Richardson; also, Kyle (Danielle) Hudson, Ryan (Chelsea) Hudson, Laura (Derek) Ellis, Jessica Anaya, Jonathan (Sarah) Weltsch, Jennifer (Jerry) Vandercook, and many many more nieces, nephews and close friends to numerous to list. Oh! She is also survived by the many slot machines of Humboldt County.
Shirley got to spend nearly 30 years with her son here on Earth, but finally reunited with her first-born son, Scott, on the other side. Also preceded in death by her mother and father, Faye Peters, Mike Dreski, and multiple members of the Anderson family. Heaven got a bit wilder when she met up with the past members of the Overholt, Brown and Hartman families.
Throughout her time on earth, she knew so many people. It was up to you how. She was always a fighter, she was sarcastic and a force to be reckoned with. She had a beautiful and caring heart — if you needed anything, she would find it for you. If it was broken, she would fix it or rig it back together. If you just needed someone, she'd be there — unless she was sleeping (if you know, you know). She will be as greatly missed as she was loved.
The family would like to thank Resolution Care for all the love and support they have given to Shirley and her family throughout her time as a patient with them. To Amber, Nicole, & Bryan; you have some of the biggest and compassionate hearts we have had the pleasure of knowing. Thank you for being a part of Shirley's story. Also to Gobles Mortuary for handling everything and making it easy on our family, the amount of respect felt there was unfathomable. We would also like to thank Lost Coast Outpost for their obituary services for our community. I heartfelt gesture in a capitalist world. You are very appreciated. Thank you all to no end.
A celebration of life will be held on July 29th, 2022 at the Fortuna Memorial Building. Doors open at 5 p.m. Click this link to find out more information.
###
The obituary above was submitted by Shirley Stevens' loved ones. The Lost Coast Outpost runs obituaries of Humboldt County residents at no charge. See guidelines here. Email news@lostcoastoutpost.com.