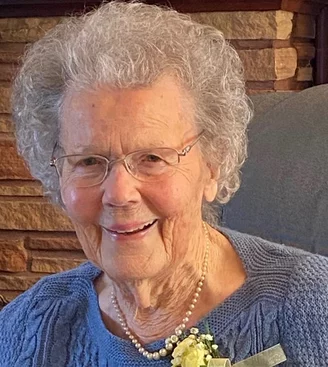 Mona Frances Conner, died peacefully on June 8, in her Eureka home of over 70 years, with her niece by her side. She celebrated her 100 birthday on February 4, 2022. Mona was the daughter of Charles and Edna Taubman of Ferndale, and the last of the four Taubman sisters; Katherine Christensen, Clara Bender, Helene Petersen.

Mona was raised on a ranch and learned at a young age what hard work was all about. She attended Grizzly Bluff and Coffee Creek Elementary Schools; graduated from Ferndale High School in 1940 and completed a two year business course at Humboldt State College in 1942. When Mona was a freshman at Ferndale High she met the love of her life, David Conner. Dave was drafted into the Army on July 25, 1942. A year after boot camp Dave and Mona were married in Spokane. In 1943 Dave was sent overseas and Mona returned to Humboldt County. From then until the birth of her son, Mona worked in Eureka offices. After 26 months in the Army Dave returned to Humboldt to begin their married life and build a home in Eureka. They were blessed with a tiny baby boy (weighing 4 lbs.), Dwight David, in 1952.
Mona loved being a homemaker and a mom. She always put her family's needs above her own; she especially enjoyed holidays, family dinners, picnics and camping. In retirement, Dave and Mona continued to camp and travel; with Dave she visited friends and family across the states and even enjoyed a company sponsored trip to Spain. Her beloved husband passed away in 2008 after 65 years of marriage; her son, Dwight passed in 2012.
Mona was loved by all who knew her. She had a great sense of humor, was kind and caring toward others. She always had time to listen, offer words of encouragement, and provide home made cookies or a slice of berry pie. She loved her church family at the United Congregational Christian Church of Eureka and was a faithful and active member for many years.
Mona is survived by her immediate family: Edna Manetsch of Delavan, Wisconsin; Marcia and Ray Daniels, Carol and Bob Giacomini of Eureka; Kay and George Huggins of Parsonsfield, Maine. She is also survived by her husband's Del Norte family: Carol Lee Conner of Smith River, Jerry and Jane Conner of Oregon, and Harold Tryon of Gasquet.
A graveside committal service for immediate family members was held on June 16, 2022 at Ocean View Cemetery; conducting the service was her grand-nephew, Pastor Steve Berti and her niece, the Reverend Kay Huggins. A memorial service for all family and friends is planned for 11 a.m. on August 13, at the Eureka Nazarene Church, 2039 E Street, Eureka. Memorial gifts may be sent to Hospice of Humboldt, 3327 Timber Fall Court, Eureka 95503.
###
The obituary above was submitted by Mona Conner's loved ones. The Lost Coast Outpost runs obituaries of Humboldt County residents at no charge. See guidelines here. Email news@lostcoastoutpost.com.