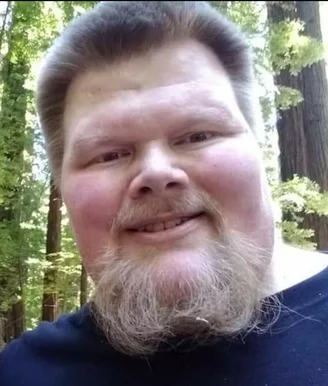 How do you even begin to describe such a huge and beautiful presence in just a few paragraphs?

Earl Sayers was born November 13, 1973. From the day he was born, he was anything but typical. Earl grew up enjoying everything outdoors — hunting, fishing, and caring for animals. As he grew older he found interest in mentoring. He volunteered for the Big Brothers Big Sisters of the North Coast. Earl was always taking someone under his sizable wing. He had so much room both physically and emotionally for anyone who needed a friend.
Earl graduated from Eureka High School and found interest in Early Childhood Development, which he studied at the College of the Redwoods. He went on to work as an assistant kindergarten teacher and worked with kids with special needs. Later he taught at Zoe Barnum. After careful consideration, Earl decided to go into the security business. He worked for Pinkerton and would commonly be found guarding local bars and pubs.
Earl wanted to protect the world, especially those that were vulnerable. He had the capacity for love and understanding that was boundless. He didn't care where you were from, what your past was like, or what anybody had to say about you. Earl accepted people for who they are as long as you check the BS at the door.
He defined family a little differently than most. He loved and respected his parents Russ and Lonetta Sayers in a rarely seen way. Throughout his life, he commonly found a family in friendship. Amongst his family, Earl is survived by Aunts Terrie Sayers and Patty Buttler, Uncles Michael Sayers, Joe Butler, sister Cherri Schick, niece Krista Whitten, nephews Steven Ridley and Dusten Whitten, Great nephews and nieces Alycia Ridley, Darian Ridley, Faith Thomas, Gracelynn Beard. Starr Hopper, Stanley Hopper, Sammy Hopper, and Shannon Hopper. Cousins Tamara Moriel, Chris Butler, Jill Butler, Kadi Butler, Derek Brewer, Lublin Brewer, and Gena Brewer, brother-n-law Raymond Schick, uncle Lee McLearn, second cousins Gloria Valles and Carol Jepsen.
Amongst his family of friends, Earl is survived by Carl David Scoles, Brandy Caldwell, Sarah Gibbens, BillRoy McKinny, Robert Anderson, Mandy Naves, Brandi Bettencourt, Shari Wright, Erin Powers-Taylor, and so very very many more I cannot possibly list you all. Earl was preceded in passing by his parents Russ and Lonnie Sayers, his aunt Noreen Matt, his dog Zeek and his Kitty Ace-a-roo.
Earl was greatly loved. He will be sorely missed and fondly remembered.
May he dance along the light of day.
Services will be held on Saturday, July 30, 2022, at Jimmy Smith Fields Landing boat launching facility at 2 p.m. This is a celebration of life there will be potluck. Please bring something to share. Nonalcoholic drinks will be provided.
###
The obituary above was submitted by Earl Sayers' loved ones. The Lost Coast Outpost runs obituaries of Humboldt County residents at no charge. See guidelines here. Email news@lostcoastoutpost.com.