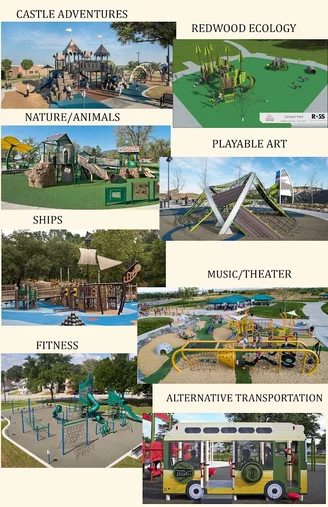 If you've been to the playground at Arcata's Redwood Park recently, you've probably noticed that it's not quite as nice as it once was. There is no longer a slide, some of structures are old and it just lacks the magic that one would expect in a playground surrounded by majestic redwoods.
The City of Arcata is planning to change that with the Redwood Park Playground Improvement Project, a part of the city's Redwood Park Master Plan to improve and redesign several components of the park. The City has now secured funding to reconstruct the playground and wants to hear from the community!
Click the link below to take a short survey and let the City know which playground theme you prefer (castle adventures? ships? alternative transportation?) and what equipment you would like to see at the park.
More from the City of Arcata:
The City of Arcata is preparing to implement the Redwood Park Improvement Project in summer 2023. To assist with that, the City is seeking community input to refine the playground theme and equipment elements planned for the park.
Community members are encouraged to take a few minutes to complete an online survey at: https://tinyurl.com/RedwoodParkSurvey.


Several years ago the City initiated a Redwood Park Master Plan process with involvement from community members and families. Conceptual improvement designs were completed in 2020, and the City has since secured construction funding from multiple sources.


Redwood Park is the City of Arcata's premier community park in the redwood forest, providing active and passive recreation opportunities for people of all ages. The Redwood Park Improvement Project seeks to renovate park facilities to ensure families can continue to make memories in this unique forested park setting. Renovations are planned to include replacement of playground equipment, accessible parking and trail improvements, a bicycle pump track, basketball court resurfacing, outdoor amphitheater relocation and conservation of redwoods in the playground area.


Some potential playground themes are castle adventures, redwood ecology, nature, playable art, ships, and fitness.


Community members who prefer to complete a paper survey can pick one up at the Environmental Services counter anytime Monday – Friday, 9:00 am to 5:00 pm. For more information contact the Environmental Services Department by email at eservices@cityofarcata.org or call (707) 822-8184.