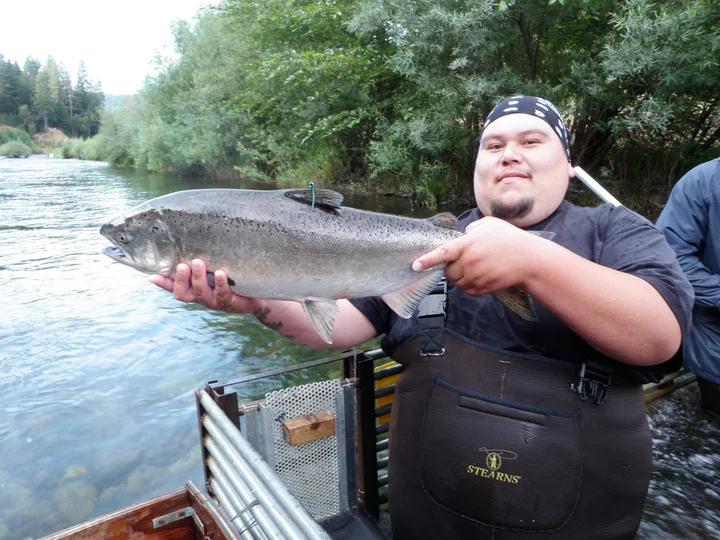 Keith Allen Hostler Jr. "Lil Boozer" began his journey to the other side on June 17, 2022 at the age of 36 in San Jose. Born November 19, 1985 to Mildred and Keith Hostler Sr., Lil Boozer was an enrolled member of the Hoopa Valley Tribe. He attended Hoopa Elementary School and graduated from Captain John High School. After high school Keith pursued many ventures, but he most enjoyed his time working on the Trinity River for the Hoopa Valley Tribe's Fisheries Department.
Keith enjoyed spending time with his family and friends and will be remembered as a man of wisdom, love, respect and humor. He was at home on the Trinity River and loved to fish and hunt to provide food for his family.
Lil Boozer is survived by his daughter Karmyn Hostler, his parents Keith Sr. and Mildred Hostler, his siblings Trish and Kristi Hostler, aunts Cindy Masten, Sandra Calvin, Linda Masten, Paulette Bowy, uncles Clarence Hostler Sr., Romaine Calvin, Danny Masten, nieces Naomi and Caprice VanPelt, Qosos Hostler, Samantha Calvin, Kidiwishe Davis, Aliya Hostler, Valin Davis Jr., Dusty Rhoades, Gia, Rose and Bud McCovey, Great nieces and nephews Callie, Divinity, Kyson, Joseph, Julian, Penelope, KeehL, Melody and numerous cousins and close friends.
Keith is preceded in death by his eldest sister Sandra Hostler, his grandparents Carmen and Darrell Hostler, and Paloma and Paul Masten Sr., uncle Samuel Masten Sr. Aunt Ada, uncles Darrell Hostler Jr. and Loren Hostler Sr., aunt Vicky Burnette, and best cousin Darrell Dwight Hostler III.
Pallbearers are Norvin Hostler, Clarence Hostler Jr., Nikwe Hostler, Mike Hostler, Chris Cooke, Ronnie Nulph, Keoki Burbank, Loren Hostler Sr., and Dylon Malnourie.
Honorary pallbearers are Roger Sanderson, Rick Sanderson, Corey Surber, Roger Surber, Wolf Colegrove, Punky Colegrove, James O'Neill, Shan Davis, Orico Bailey, Artie Jones, Sam Jones, Phil Donahue, Bud Hostler, Andrew Pacheco, Kevin Pacheco, Rubin Williams (and sons), Ben Nix, Oscar Hostler, Loren Hostler Jr., Robert Masten, Stoney McCoy, Ceasar Flores, Phillip Donahue, Paul Donahue Sr. and Jr. Leonard Ferris (and sons), Josh and Steven Hostler, Steve Crayton, and E-wee Donahue. Advanced apologies to those who we may have overlooked.
Funeral services will be announced when available.
###
The obituary above was submitted by Keith Hostler Jr.'s loved ones. The Lost Coast Outpost runs obituaries of Humboldt County residents at no charge. See guidelines here. Email news@lostcoastoutpost.com.