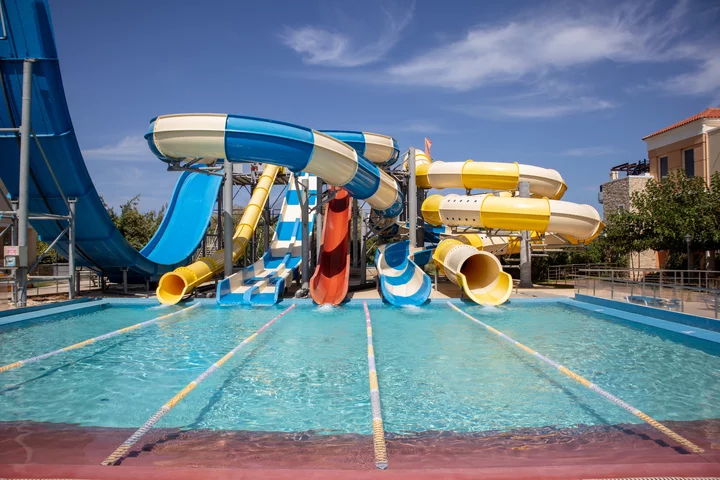 ###
Picture this: It's a beautiful sunny day in Blue Lake and you've just reached the tippy top of the epic waterslide at the brand new waterpark. The lifeguard on duty gives you the all-knowing nod to proceed down the slide and you launch yourself forward. As you gleefully navigate each twist and turn of the slide you think to yourself, Maybe I'll check out the splash pad after this! Life is good.

That dreamy vision could become a reality!
The Blue Lake Rancheria recently hired the Humboldt Visitor's Bureau to look into the feasibility of a waterpark in Blue Lake. The survey is geared toward parents and asks about the use of existing water features in the county (rivers, pools, ocean, etc.) and what kind of attractions ought to be featured in a local waterpark (waterslides, splash pads, lazy rivers, etc.).
"It's really preliminary at this point, but it seems like the community is pretty excited about it!" Andrea Marvin, communications manager for the Blue Lake Rancheria, told the Outpost this afternoon. "The Tribe will be excited to share more details as the plans become more finalized, but at this point, it's just a feasibility study. Once the feasibility study comes out there will be more information for us to share."
Naturally, locals are going nuts about it on Facebook. The vast majority of folks seem thrilled by the prospect, but, of course, there are a handful of naysayers who think it's just "another stupid idea." Several commenters have questioned whether it gets hot enough in Blue Lake to warrant a waterpark, while others have pointed out that the waterpark could be indoors like the aquatic center in Fort Bragg.
What do you think? Tell the Blue Lake Rancheria here!
(DISCLOSURE: The Blue Lake Rancheria is a minority owner of Outpost parent company Lost Coast Communications, Inc.)