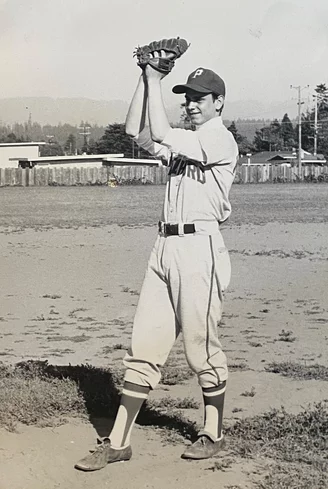 Edward Earl "Ned" Seely passed away peacefully in Eureka on the morning of June 3, 2022. He has been battling Alzheimer's for many years and was diagnosed in late 2016. He had PCA, Posterior Cortical Atrophy, which affected his vision and spatial abilities, but left his humor and kindness intact.

Ned was born in Eureka on January 31, 1949, to Elmo Keith Seely and Betty Gene Shank. His childhood was filled with wonderful memories spent with his two older brothers Michael and Kevin and his older sister Jenny. Growing up his dad Elmo did not like having sugar in the house, but Ned had a notorious sweet tooth and would sneak over to the neighbor's house. His mom found out many years later that the neighbor would give him sweets and Coca-Colas. Ned would remember being the littlest in the family and losing to his older siblings with things such as what to watch on TV. Because of this, he would gain a love for books, especially mysteries.
Ned attended Eureka City Schools and graduated from EHS in 1967. Throughout school, he played baseball and basketball. He attended College of the Redwood and Humboldt State University, playing baseball at both. As an adult, he would go on to play in local softball leagues and develop a love of golf, something he would pass on to his son Nick.
In college, he met Mary Jane Bohn and they were soon married in 1971. In 1977, they welcomed their first child Rebecca Ann into the world and in 1981 their son Nicholas Allen was born. In their early years of marriage, Ned and Mary worked in Juvenile Hall together and were known as Mom and Pop. After 30 years, Ned retired as Assistant Chief of Probation. In his retirement years, you could find him enjoying a drink at Dave's Place, playing pool at the Elks, or enjoying a round of golf.
When Becca and Nick were little, they remember that at night when their dad would watch TV, he would roll up newspapers and pitch nerf balls to them for them to hit. He would also play wiffle ball with them in the backyard while he was barbecuing. This would be the start of both Nick and Becca following in his footsteps with their lifelong love of baseball. Ned could always be counted on to never miss any of their many sporting events, from baseball and softball, to basketball, volleyball, and soccer. Ned would recall his best day ever was when Nick, at the age of 14, beat him for the first time in a round of golf. In the summers, Ned and Mary would take the family camping up in Grants Pass to the family's favorite campground, Indian Mary. Every day he would drive into town to get in a round of golf. He loved the Grants Pass golf courses. When he wasn't golfing, he would be barbecuing and visiting with friends.
After living in Sacramento for a few years, he moved back home to care for his mom and stepdad Kenny Cringle. He loved spending time with his four grandkids and of course never missed one of their sporting events. He would often take his grandkids to get milkshakes at Fresh Freeze; he would never outgrow his sweet tooth.
Ned was a lifelong Giants fan and in his later years would take many trips down to San Francisco with Becca and Nick, who inherited his love of the Giants, to see a game or two. He would still travel up to Indian Mary to camp with his kids and grandkids and of course golf everyday with Nick and sometimes his granddaughter Shelby. He loved spending time with his family and will be remembered with much love.
Ned was preceded in death by his mom Betty Gene Cringle, his dad Elmo Keith Seely, his stepdad Kenneth Cringle, his brother Michael Seely, and his cousin Charley Shank.
Ned is survived by his children Becca Meyer (Jeff) and Nick Seely, his sister Jenny Lovewell, brother Kevin Seely, his four grandchildren Shelby, Kodi, Tyson, and Jason Meyer, his ex-wife and friend Mary Seely and numerous friends and family.
His family would like to give special thanks to the caring staff at Timber Ridge, the amazing Hospice team for their compassionate care during his final days, Donnette Baarsch for entertaining him with music and art, and George Morris for bringing him a newspaper every day while at Timber Ridge.
A celebration of life will be held at 1 p.m. on August 14, 2022 at the Eureka Elks Lodge, 445 Herrick Ave., Eureka.
In lieu of flowers, donations can be made to Alzheimer's research or St. Bernard's Academy.
###
The obituary above was submitted by Ned Seely's loved ones. The Lost Coast Outpost runs obituaries of Humboldt County residents at no charge. See guidelines here. Email news@lostcoastoutpost.com.