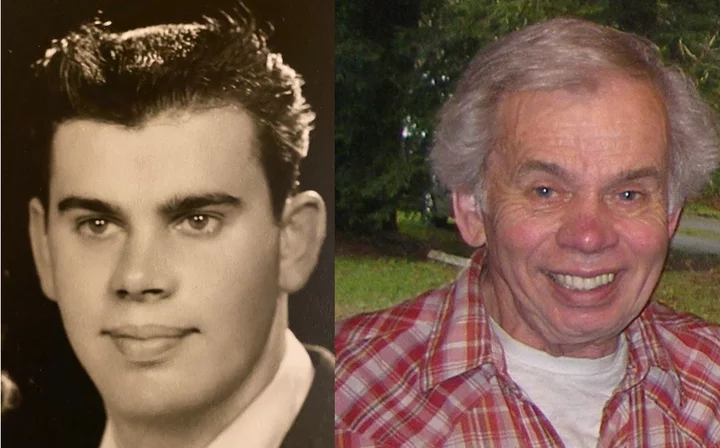 Dwight Marion (Ike) Randle was born on June 26, 1935 in Eureka, CA to Dorothy Frost Randle and Clyde Randle and spent his entire life living in Eureka. While Dwight was his given name, he always MUCH preferred (as anyone will tell you) to be called "Ike." Ike's father died unexpectedly at the age of 45 in 1942, after which his mother married Weldon Randle, Clyde's brother and the family bought a piece of land (after "always renting" – according to Dorothy) on Pine Hill where Ike and his sister, Sidney, grew up. According to his mother, even from an early age, Ike loved to "fix things – somehow all his toys broke and needed to be taken apart and fixed." He would carry this love of fixing things into his career as a "body and fender repairman." He was also an inventor – one of the favorite stories about his childhood was that when he was in junior high he fashioned a bicycle with a steering wheel and thinking this was a good idea, went down a hill near his home, only to lose control and break his arm.
Ike's great-grandmother, Acascia (nee Gordon) Frost, was born near Iaqua, Humboldt County, in 1866, so he was a descendent of Humboldt County Pioneers. He was a graduate of Eureka Junior and Senior High Schools. After graduation, he went to work full time at California Body Shop, eventually becoming a co-owner. He retired (somewhat reluctantly) in 2008.
Two years after marrying Barbara Ansak (in 1956), Ike and Barbara began building their own home on property given to them by Ike's mother. This project would occupy both their time for over 7 years and result in an ever evolving home for themselves and their two children, Yvonne and Tony, a dog named Tiger, a cat named Mischief, rabbits (early on), and doves.
Over the years, Ike had many hobbies – including refurbishing a 1935 Ford Coupe, collecting coins, fishing, bowling, owning and working a mining claim in Trinity County (not much gold was found, but it was a fun place to spend time in the summers), and re-building "totals" (cars). He also LOVED going to Reno to play Keno and the slot machines – which he would do at least once a year – and playing the California lottery and "hot spots" (typically at Dave's in Henderson Center). He actually won a little in the lottery (a few times), but never became a millionaire from doing so.
To his kids in their younger days (along with their mother), there were many driving adventures – always with the threat that if you "don't stop fighting, we're going to take you home!" These included Disneyland (twice) – magic moment of this trip – the Matterhorn (which the kids, begged him to take them on one more time); and Yellowstone National Park (when the bears still roamed very near your car). There were also several trips to Portland, some to Reno, and, of course MANY trips to the family mining claim in Trinity County where he would take the kids fishing and where, after the kids used their allowance to purchase a "plastic boat," he had to chase it for us down Canyon Creek after it escaped. All road adventures were made so much more pleasant by the fact that he had one child who was perpetually carsick and later acquired a dog who also would get carsick on the way to Trinity County. Thank goodness that they invented coffee cans with plastic lids!
After casinos opened in Humboldt County, he became a regular – first at Cher-Ae Heights and later at Blue Lake (especially on senior days). When asked how he did in these investments, the response was less than clear. He also began dabbling in the stock market, after his son-in-law convinced him that this would offer better returns than a slot machine. Among his other favorite things were old Western movies and TV shows (Gunsmoke, Bonanza, Andy Griffth), cowboy boots, classic country music (his kids grew up on this), apple pie (never cake for his birthday because he didn't like it), vanilla milkshakes (ONLY vanilla), and a cold can of Miller Lite (the ONLY beer he drank in later years – although in the early years, it was Olympia).
Ike was predeceased in 2003 by his mother, Dorothy; his sister, Sidney in 2021; and his uncles Jack, Leonard, and Frank Frost. He is survived by his daughter, Yvonne Randle (and Yvonne's husband, Eric Flamholtz); his son, Tony Randle (and his wife, Johnnie); and Barbara Randle. He is also survived by his grandchildren: Nick Randle and his wife, Macey; Heather Randle; and Kristina Randle and her husband, Adam Smith; as well as great-grandchildren: Maya and Emmett Randle, Samantha J. Randle, and Austin and Emma Smith. He will be dearly missed by his family and all of the many friends he made over the years. He was be laid to rest in Arcata's Greenwood Cemetery.
###
The obituary above was submitted by Ike's loved ones. The Lost Coast Outpost runs obituaries of Humboldt County residents at no charge. See guidelines here. Email news@lostcoastoutpost.com.