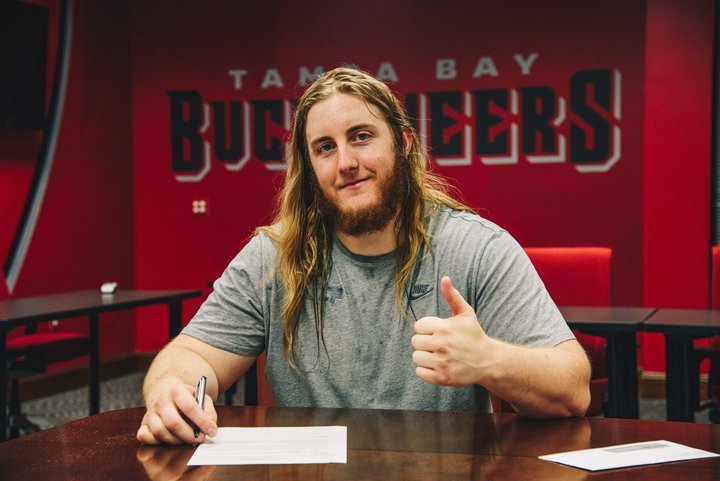 Former Cal Poly Humboldt (Humboldt State University) lineman Alex Cappa intends to sign a four-year, $40 million contract with the Cincinnati Bengals, ESPN reports.
After signing a rookie contract worth $3,368,704 with the Tampa Bay Buccaneers in 2018, the proposed new deal would currently make Cappa the eighth highest paid guard in the National Football League, according to Spotrac.com.
Tom Brady's loss will be Joe Burrow's gain: Bucs' free-agent guard Alex Cappa intends to sign a four-year, $40 million deal with the Bengals after free agency opens, per league sources.

— Adam Schefter (@AdamSchefter) March 14, 2022
The proposed deal is one of the first to be announced during the start of the two-day "legal negotiation window" which precedes free agency.
The 27-year-old will be able to sign the new contract on Wednesday at 1 p.m. — the official start of the 2022 NFL season and free agency period.
Amazing job by the #Bengals and Alex Cappa to negotiate a four year contract in about 5 seconds.

— Jason_OTC (@Jason_OTC) March 14, 2022
After winning a Super Bowl with Tom Brady and the Buccaneers in 2021, Cappa is set to join another Super Bowl contender. The Bengals will look to rebound from their Super Bowl loss to the Los Angeles Rams last month behind the arm of young NFL superstar Joe Burrow.
If the deal goes through, Cappa will be the third Humboldt sports star to play for the Bengals. Eureka High School grads Rey Maualuga and Maurice "Mo" Purify both played their rookie seasons with the Bengals in 2009. While, Purify only lasted one season as an NFL wide receiver, Maualuga went on to have a very successful career playing linebacker for the Bengals until 2016.