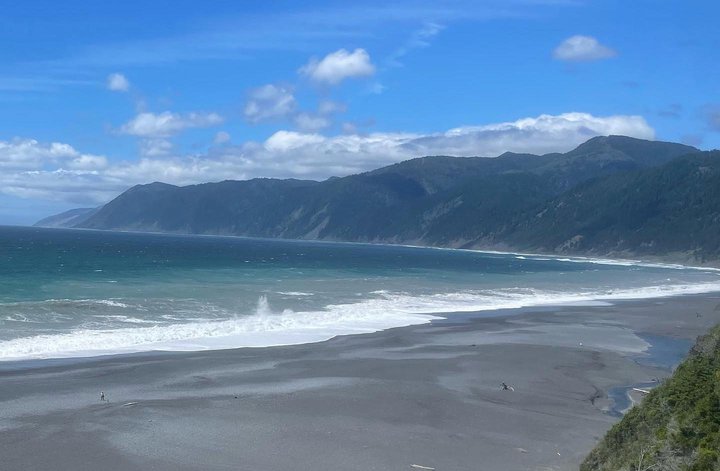 One person has died and another was hospitalized after large, hazardous waves pulled a pair of hikers out to sea at Black Sands Beach yesterday.

Shelter Cove Volunteer Fire Department Chief Nick Pape told the Outpost that the department's Ocean Rescue Team responded to the emergency by personal watercraft and boat at 2:10 p.m. The team reportedly reached the distressed hikers approximately 13 minutes later, where they found the victims trapped in 15 to 25-foot waves.
"Our team rescued the first patient, who was treading water, and took that patient to our boat crew," Pape said. "Then our Jet Ski team went in to recover the unconscious patient and bring them back out of the water."
The unconscious hiker was later pronounced dead by paramedics. The rescued hiker was determined to be in stable condition, and was flown to an unconfirmed hospital for additional care.
Pape said that one hiker is suspected to have been washed away by a sneaker wave, but was unable to give an official confirmation. The other hiker reportedly also became trapped in the surf after attempting to rescue the first distressed person. It's unclear which of these hikers survived the incident.
"We assume it was a sneaker wave," he said. "Black Sands Beach is known for having sneaker waves and a very dangerous shore break."
Pape was unable to confirm any of the hikers' personal details, but said that the Humboldt County Sheriff's Office is leading the investigation and that the agency is expected to release additional details at a later time.
As summer approaches, the Shelter Cove Volunteer Fire Department is warning all beachgoers to keep a safe distance from the shoreline.
"We train for this moment and the team really risked their own safety to bring back both patents," Pape said. "We're proud of the crew and sorry for the loss. We'll continue to keep training and hopefully get the word out that the ocean is very dangerous — especially Black Sands Beach. We see it time and time again. With the summer season, we want to prepare people and educate them on the dangers that these beaches present."