PREVIOUSLY:
###
The following info was released Friday by the California Department of Transportation:
Please join Caltrans for another public workshop regarding future access in and out of Ferndale. The workshop will be held on Wednesday, August 30 at Ferndale City Hall from 5:30 to 7 p.m. More information about future Ferndale access can be found here.

Time for a Deeper Dive




In June, Caltrans met with community members to get your input and ideas for the future of transportation access and mobility in Ferndale. Now we're inviting you to come share your insights on the benefits and challenges of different ideas about access into and out of Ferndale.

How do you envision future community access to Ferndale?

Which potential avenues should we explore further?

This workshop is the second in a series of initial steps in Caltrans' engagement with the community, and will include opportunities to:

Hear an update on work on Fernbridge
Learn about the Caltrans planning process
Give input on transportation ideas generated by the community.

Light refreshments will be provided.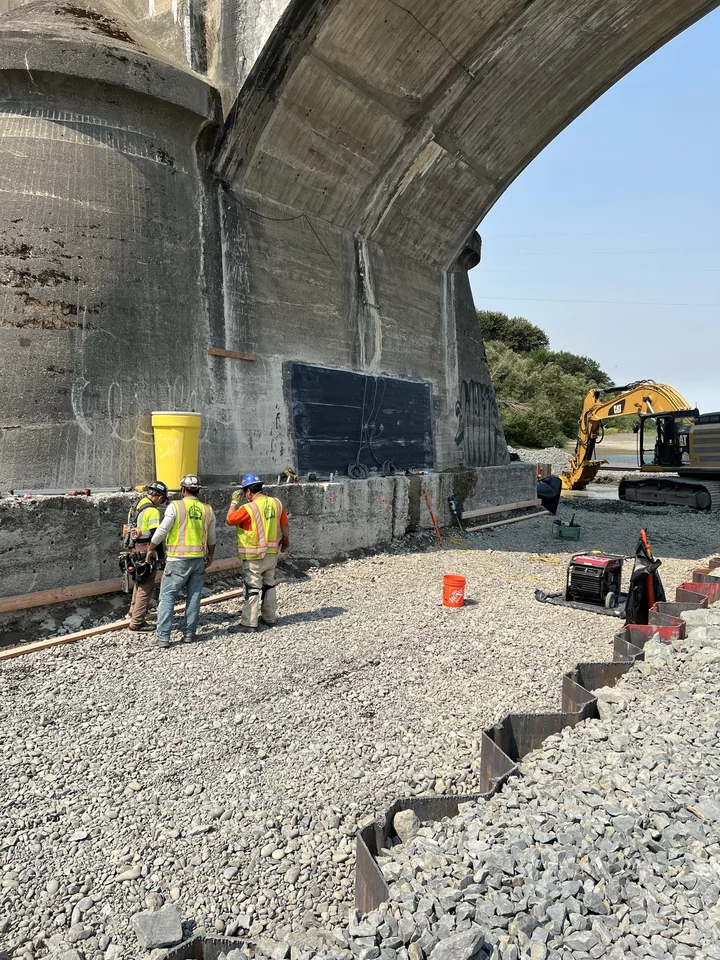 ###
In the meantime, over on its Facebook page, Caltrans District 1 offered the following update on repairs at Fernbridge:
All the equipment needed for repairs on Pier 2 has been mobilized. An oscillator – a piece of drilling equipment that rotates steel pipe casing back and forth into the earth to help facilitate the drilling of piles — is on its way and will be in use soon. Crews have finished putting in metal sheet piles for a cofferdam around Pier 2. Think of the cofferdam as a watertight barrier that is needed for foundation construction.

Additionally, we've wrapped up some CFRP strengthening. That means using carbon fiber-reinforced plastic to make the bridge even tougher. We've also been filling in some additional cracks. It's like giving the bridge a superhero suit! Now, we're digging down to the bottom of the cofferdam to place a concrete seal course to enhance its effectiveness and keep it watertight.

Thanks for your patience and understanding as crews work hard to keep traffic moving over Fernbridge safely.