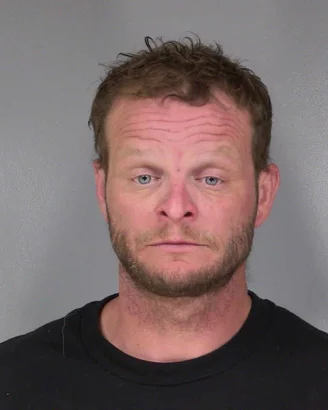 UPDATE, 4:53 p.m.: After this post was published, the Times-Standard published a story by reporter Sage Alexander, who quotes Thomas Nicholson Stratton.

According to the story, Nicholson Stratton says that the homophobic comments made by LoCo Fish Co. owner Jayme Knight included, "Oh, that's so gay. You should be over there. With the F-ggy bottoms boys." We assume that omitted vowel was an "a" and not an "o."
Later in the afternoon, the North Coast Journal's Jennifer Fumiko Cahill published a story that quotes Knight, who denies that he intentionally ran over anyone's belongings but does not deny getting drunk and using gay slurs.
The following quotes are attributed to Knight:
God, I regret my actions so much. I don't know what to say; I don't have any excuses. I had too much to drink and my judgement got the better of me. … I really don't have any hatred at all toward the LGBTQ community at all. I'm just trying to wrap my mind around how it got so out of control. I need to really work on myself; I needa go to rehab and therapy.
###
Original post:
Local dairy farming couple Cody and Thomas Nicholson Stratton, known by their business name The Foggy Bottoms Boys, have alleged on social media that their employees were subjected to hurtful and offensive gay slurs during the annual chili cook-off event at the Humboldt County Fair last week.

"To make matters worse," the Nicholson Strattons said on Facebook and Instagram, "after the event concluded, the owner of this company damaged our supplies by running over several boxes of supplies while moving forward and then backing into our new tent and burner. This reckless action could have resulted in harm to individuals present including our son."
While the Nicholson Strattons did not identify the business owner, Ferndale Police Chief Ron Sligh told the Outpost that Jayme Knight, owner of the popular food truck business LoCo Fish Co., was arrested at the scene of the chili cook-off on Thursday evening after allegedly driving while intoxicated and backing his vehicle into boxes belonging to another participant at the event.
Sligh said allegations of hate speech came in to the Ferndale Police Department after Knight had been arrested and booked into the Humboldt County Corrections Facility. "That part is still under investigation," he said. "Initially, [Knight] was intoxicated, so he was arrested for DUI because you can't drive under influence anywhere, even [at the fairgrounds]."
As for the alleged anti-gay hate speech, Sligh said, "There have been a number of people who've called up [to report that]. We did talk to one of the subjects involved, and we're still looking into that aspect."
The Outpost tried to contact Knight via the two listed phone numbers for LoCo Fish Co. Both numbers delivered an automated reply saying the voicemail box could not accept messages. We also sent a Facebook message to Knight, to which he did not immediately respond.
On Instagram, LoCo Fish Co. posted a comment under the Nicholson Strattons' post, saying, "I'm extremely sorry for our actions."
A commenter on the Instagram post also tagged LoCO Fish Co. and asked, "How are you going to make this right? Can't take back what has been done, but they deserve a true, heartfelt apology. What a terrible thing to do to local business owners. You should be ashamed."
LoCO Fish Co. replied to that comment, saying, "I will absolutely make this right!" When another commenter suggested that this response was insufficient, LoCO Fish Co. commented again, saying, "I'm … paying for the damage and issuing a public apology. We are NOT anti-LGBTQ in any form."
Jill Duffy, the interim director of the Humboldt County Fair, told the Outpost that she hadn't heard about the alleged hate speech until last night, though she was aware of Knight's arrest. Someone called her on Thursday to say Knight was being arrested after backing into a tent and that he was "in the back of a [police] vehicle looking very unhappy."
Duffy added that it's important for people to take such matters directly to management as soon as they happen, whether it's at the fair or anywhere else. "A lot of things could be reined in and addressed faster" that way, Duffy said.
We will update this post if we hear back from Knight.
Here's the full Facebook post from the Foggy Bottoms Boys:
And here's the text of the post, copied and pasted for those who don't have Facebook:
Many of you have reached out to us about this and we want to be honest about the unfortunate experience that our team recently encountered by another contestant at the Humboldt County Fair Chili Cook Off. During the participation of the event, our employees were subjected to hurtful and offensive gay slurs throughout by another contestant company. It was disheartening to see such behavior being tolerated in a community event that should celebrate diversity and inclusivity.

To make matters worse, after the event concluded, the owner of this company destroyed our supplies by driving over several boxes of supplies and equipment while moving forward and then backing into our new tent and burner. This reckless action could have resulted in harm to individuals present including our son. Subsequently, we believe he was detained and questioned by police. While this was disheartening and shocking we continue to believe it's important for us to stand together against such behavior in our community. Let's continue to champion respect, inclusivity, and safety for all.

Thank you for the support you continue to show our business and family.

*Please keep comments respectful and supportive, and feel free to share this post.

If you or someone you know is experiencing hate or bullying based on your sexual orientation, or you'd like to learn how you can advocate and be an ally for our community - here are a few vetted resource links we highly recommend exploring and sharing - and of course, we are personally here for members of our community who need support.