UPDATE, June 16, 9:53 a.m.:
Several readers have been wondering out loud (in written form, on social media, mostly) whether Caltrans will raise the speed limit on this stretch once the highway improvements are complete. We reached out to Public Information Officer Myles Cochrane, who had this to say on the matter:
Ultimately, safety is our number one priority.

A reasonable time after project completion, a study known as an Engineering and Traffic survey (E&TS) will be conducted to analyze any speed-limit changes that may or may not be implemented.

We do not currently have an estimated timeline for when the E&TS will occur.

You can read more here: Setting Speed Limits | Caltrans
###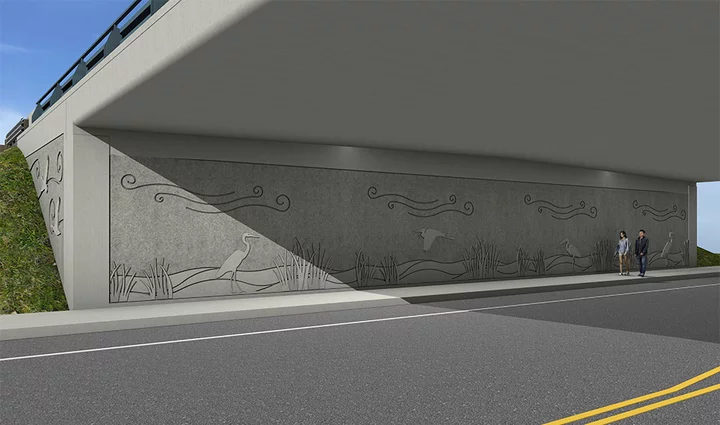 ###
With the summer road construction season now upon us, Caltrans this afternoon officially broke ground on two major components of the Eureka-Arcata U.S. 101 Corridor Improvement Project — namely, an undercrossing at the Indianola Cutoff and a half-signal at Airport Road.
The project will also see the closure of existing median openings that allow cross-freeway traffic at Mid-City Motor World, Bracut Industrial Park and the Bayside cutoff.
A variety of stakeholders gathered in windy conditions near the construction site Thursday afternoon to announce the project launch.
"I can't believe we're actually here," Caltrans District 1 Manager Matt Brady said, "and it's so exciting to see this project coming about and being built."
Brady went on to emphasize the impetus for the $46 million construction project — a series of deadly collisions along this stretch of Highway 101, particularly at the Indianola Cutoff.
"When I first moved to Humboldt County 22 years ago, I saw the signs," he said. "What did the signs say? They said this was a 'Blood Alley.'"
Brady noted that Caltrans has made other improvements to the "Safety Corridor" between Humboldt County's two most populous cities, putting in a cable median barrier, making adjustments to the on- and off-ramps, and replacing and widening bridges.
The project is currently scheduled to be completed by the end of 2025.
###
Fourth District Humboldt County Supervisor Natalie Arroyo, who is also a board member of the Humboldt County Association of Governments (HCAOG), addressed the small crowd, thanking Caltrans personnel for their collaboration and noting the connection between this project and the Humboldt Bay Trail, which is expected to be completed by the end of next year.
HCAOG Director Beth Burks said her organization first recognized the dangers of this freeway crossing more than two decades ago, and those dangers persist to this day.
"For those that commute, I feel like I hear daily stories of near misses that they experienced [and] that they witnessed, so I think it can't come too soon that we will get this project underway and get it completed," Burks said. "When the HCAOG board first began prioritizing this project, there were 85 collisions in a five-year period, including five fatal fatal collisions that, some of them, involved multiple people."
The rate of collisions declined somewhat when the seven-mile stretch was turned into a "safety corridor," complete with flashing signage, automated "Your Speed" indicators and a reduced speed limit of 50 miles per hour (down from 60). But those stopgap safety measures were never meant to be permanent.
California Highway Patrol Sgt. Matt Harvey took a turn at the microphone and recounted a 2002 traffic collision at the Indianola intersection that claimed the lives of four people, including a mom, her son and her father.
"I think it goes without saying that the addition of an under-crossing at Indianola cutoff and a traffic signal to our south will save lives [and] give parents of young drivers, like me, a little extra relief when children are driving through the area," Harvey said. "My own mom refuses to turn left onto the Indianola cutoff from 101. She drives all the way to Eureka and back to get to Indianola cutoff."
Watsonville-based construction company Granite has been awarded the $46 million contract to build this project, and the company's North Coast area manager, Justin Ingram, was on hand to mark the occasion. He noted that Granite has done work in Humboldt County in the past and looks forward to doing more projects in the future.
Caltrans Project Manager Jeff Pimentel urged those in attendance — and presumably, by extension, those in the public — to follow Caltrans District 1 on social media for updates as the project progresses. (Here's a link to their Facebook, Twitter and Instagram pages.)
Once the speeches were over, many in attendance grabbed golden shovels and bunched together, shoulder to shoulder, for a photo op: