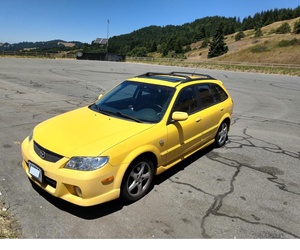 2002 Mazda Protege5 hatchback
$1,500
2002 Mazda Protege5 hatchback
$1,500
$1500 OBO
2002 Mazda Protege5 hatchback for sale AS IS.
This sporty-looking car is often mistaken for a Subaru. It has plenty of space and has served me well the last 8 years in Portland and then in Santa Cruz. The Banana Slug Mobile is very fun to drive—do not let its name fool you!—but alas it is old and it is not worth it for me to repair now that I can afford a newer car.
Odometer: 179,810
Registered in OR
Specifications and features (all functioning unless otherwise stated)
* Exterior color: bright banana slug yellow
* Interior color: black
* Manual transmission
* Front-wheel drive
* Cruise control
* Leather seats
* Roof rack
* AM/FM radio
* Owner-installed AUX cord that works through the radio
* CD player
* Spare dummy wheel and tools to change tire
* Lug nut key
* A/C (a bit flakey on some fan levels but still works!)
* Moon roof
* Power windows
* Key and spare key
* Floor mats
* Owner's manual
Optional FREE! add-ons
* Tire chains
* Cloth car cover
* Banana slug mascot
The not great stuff
* P0421 engine trouble code for "Warm up catalytic converter, bank 1—efficiency below threshold."
* No remote key (but two regular keys)
* The trunk can leak when it rains a lot
Please email me if you are interested. Maybe you want to fix it up and drive it, maybe you want to learn manual, maybe you want to take it to Burning Man (if that still exists), maybe you want it for parts! $1500 OBO. Cash only.
If interested, email gina@contolini.com and please reference the ad in your email
Find at more at this link.