(UPDATE) Fatal Early Morning Crash in Myrtletown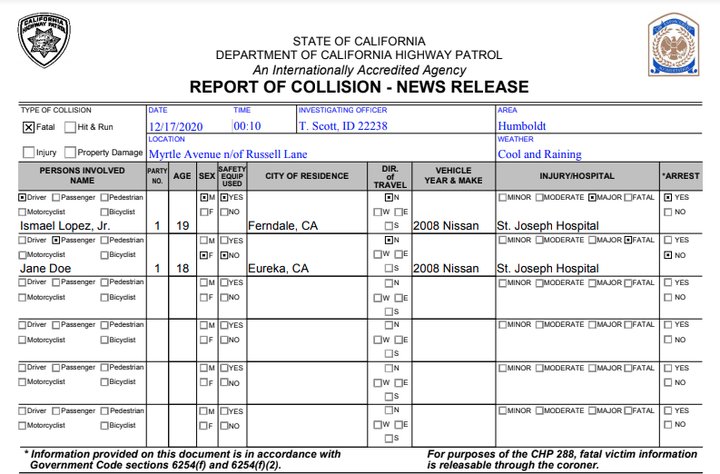 UPDATE, 9:50 a.m.:
California Highway Patrol press release:
On 12/17/2020, at approximately 12:17 a.m., the CHP Humboldt Communication Center (HCC) dispatched Humboldt Area CHP to a vehicle collision with an ambulance responding near Myrtle Avenue and Russell Lane.

Humboldt Bay Fire Department, City Ambulance, and CHP Officers responded to the scene and located a 2008 Nissan Altima that had collided with two parked vehicles.

The driver, Ismael Lopez, Jr. and passenger, Jane Doe, were transported to St. Joseph Hospital for treatment. Despite the valiant efforts of Fire, Ambulance, and Hospital personnel, Jane Doe unfortunately succumbed to her injuries at 2:36 a.m. The identification of the passenger is being withheld pending notification of next of kin by the Humboldt County Coroner's office.

The CHP's preliminary investigation has determined that alcohol and drugs were a factor in this collision. Ismael Lopez, Jr. was subsequently placed under arrest for gross vehicular manslaughter while intoxicated, driving under the influence of alcohol resulting in injuries, and driving under the influence of drugs resulting in injuries.

The CHP is continuing to investigate this collision and asks anyone with information to contact the Humboldt Area CHP office at (707) 822-5981.
###
At least one person was reportedly killed in a fiery crash in Myretletown today at approximately 12:14 a.m.
According the California Highway Patrol incident report, the vehicle crashed into either a van, a passenger bus or a power pole near the intersection of Myrtle Avenue and Russell Lane before exploding into flames.
Two minor power outages were reported in the Myrtletown area this morning. However, it's unclear if the outages were related to the crash.
The Outpost has contacted the CHP for more information on the crash, but has not immediately received a response.
---
12:15 a.m.
[2] UKN DESC VS PARKED VAN
12:16 a.m.
[11] [Appended, 00:18:28] [3] RP SAW 2 VEHS DRIVING AND THEN HEARD A HEARD A LOUD BANG
12:17 a.m.
[15] [Appended, 00:18:50] [2] ENG IS ON FIRE
12:19 a.m.
[18] PER ADDTL CALLER VEH VS PSGR BUS
12:20 a.m.
[19] PER HSO CALLER STATES THE VEH EXPLODED / HSO XFER TO EPD POSS ITA 2500 MYRTLE AVE
12:30 a.m.
[36] 16-10 APPEARS VEH HAS STRUCK PGE POLE DOESNT APPEAR DMGD INFO ONLY AT THIS TIME
1:09 a.m.
[46] C16-010 1185 FOR A NISS MGR END DMG AND EVIDENCE TOW
1:29 a.m.
[52] [Rotation Request Comment] 1039 humboldt towing 707 442 4537 / eta 10 min
1:30 a.m.
[54] line 52 evidence tow
2:23 a.m.
[63] C16-010 ERNT HUMBDOLT TOW
3:03 a.m.
[77] C16-010 98 HUMB TOW 1019 125 FOR FOLLOW UP
7:04 a.m.
[98] [Notification] [CHP]-Problem changed from 1183-Trfc Collision-Unkn Inj to 1144-Fatality by CHP [Shared]