Clinician/Bilingual Clinician
Changing Tides Family Services
Posted: March 13, 2020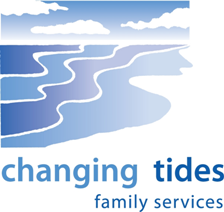 PURPOSE:
The Clinician, under general direction, is responsible for components of mental health services provided by Changing Tides Family Services, including but not limited to, assessment, diagnosis, and development of treatment plans, individual and group therapy. This position provides services on school campuses, in community settings (including clients' homes) and office settings. Please see job description for complete details of job duties and responsibilities.
QUALIFICATIONS:
Clinician I -Valid ASW or MFTI registration in the State of California
Clinician II -Valid LCSW or MFT license in the State of California
Bilingual Clinician I and II- Ability to speak, read, and write in accurate, fluent Spanish
REQUIREMENTS: Ability to pass a criminal record background check. Must possess a valid California driver's license, current automobile insurance, and a vehicle for work.
WAGE: Clinician I (hourly) starts at $23.54 per hour
Bilingual Clinician I- Spanish (hourly) starts at $25.22 per hour
Clinician II (exempt) starts at $4,418 per month
Bilingual Clinician II- Spanish (exempt) starts at $4,735 per month
BENEFITS: Benefits per current Personnel Policies include:
Paid sick and vacation days, 13 paid holidays
Health, vision, life, and dental insurance
401(k) Retirement Plan
APPLICATION PROCEDURE: Submit a letter of interest, resume, and completed job application via email to nprato@changingtidesfs.org or via U.S. mail to:
Nanda Prato, Human Resource Director
Changing Tides Family Services
2259 Myrtle Avenue
Eureka, CA 95501
Job description and job application available at www.changingtidesfs.org
APPLICATION DEADLINE: Monday, February 3, 2020 at 12:00pm.
Changing Tides Family Services is an equal opportunity employer and does not discriminate on the basis of race, religion, national origin, ancestry, gender, marital status, sexual orientation, age, disability, or on any other inappropriate basis in its processes of recruitment, selection, promotion, or other conditions of employment.