Supported Parenting Program Supervisor
Changing Tides Family Services
Posted: Feb. 21, 2020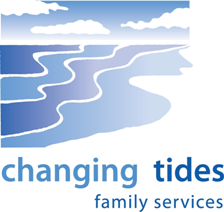 PURPOSE:
Under general supervision, is responsible for the day-to-day administrative supervision of assigned staff; participates in the development and implementation of parent education and support services for adults with developmental disabilities; supervises staff and program activities to achieve program goals; co-facilitates parenting groups and other program group activities; may provide direct services; performs other duties as assigned.
QUALIFICATIONS:
A typical way to obtain the knowledge and skills outlined above is:
• Equivalent to graduation from a four-year college or university with major course work in child
development, social work, education or a related field.
• Two years of home visiting experience with families.
• One year of experience working with individuals who have developmental disabilities,
• Two years of supervisory experience preferred
REQUIREMENTS:
• Must be able to pass a criminal history fingerprinting clearance at the DOJ and FBI level.
• Must possess a valid California driver's license, current automobile insurance and vehicle for work.
• Must be able to make home visits and be able to enter a variety of structures, must be able to climb stairs and
be physically mobile, as well as able to see and hear within normal ranges with or without corrections.
• Ability to work occasionally a varied schedule, including evenings, weekends and early mornings throughout Humboldt County.
WAGE: $19.33 per hour. Stipend for qualified bilingual candidates (English/Spanish)
BENEFITS: Benefits per current Personnel Policies include:
Paid sick and vacation days, 13 paid holidays
Health, vision, life, and dental insurance
401(k) Retirement Plan
APPLICATION PROCEDURE: Submit a letter of interest, resume, and completed job application via
Email to nprato@changingtidesfs.org or via U.S. mail to:
Nanda Prato, Human Resource Director
Changing Tides Family Services
2259 Myrtle Avenue
Eureka, CA 95501
Job description and job application available at www.changingtidesfs.org
APPLICATION DEADLINE: Open Until 2/18/2020.
Changing Tides Family Services is an equal opportunity employer and does not discriminate on the basis of race, religion, national origin, ancestry, gender, marital status, sexual orientation, age, disability, or on any other inappropriate basis in its processes of recruitment, selection, promotion, or other conditions of employment.