Child Care Intake Specialist
Changing Tides Family Services
Posted: Oct. 16, 2020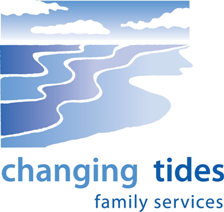 PURPOSE:
Under general supervision, interviews applicants to determine eligibility for subsidized child care programs; may assist parent in identifying their child care options and selecting a child care provider that will best meet the child's and family's needs; may also assist clients with understanding family fee statements; performs related work as assigned.
QUALIFICATIONS:
A typical way to obtain the knowledge and skills necessary is two years of college-level course work in accounting or social services and two years of experience which has involved application and explanation of rules and regulations to the public.
Requirements:
Must be able to pass a criminal history fingerprint clearance at the DOJ and FBI level
Must possess a valid California driver's license, current automobile insurance, and a vehicle for work
Demonstrated ability to use a calculator, or keyboard pad, at the minimum speed of 80 strokes per minute and demonstrated keyboard speed of 60 words per minute
Must be able to sit for extended periods of time in front of a video display terminal and maintain attention to detail
May provide services off-site or co-located with personnel from other agencies
May require the transport of equipment to be used at work sites throughout Humboldt County, would require the lifting of individual electronic components in the process of setting up remote work sites
Flexibility to work occasionally during the evenings, weekends, or early mornings
WAGE: Usually starts at $15.71, may vary dependent on experience and proven skills.
BENEFITS: Benefits per current Personnel Policies include paid sick and vacation days, 13 paid holidays, health, vision, life, and dental insurance, and 401(k) Retirement Plan.
APPLICATION PROCEDURE: Submit a letter of interest, resume, and completed job application via email to nprato@changingtidesfs.org or via U.S. mail to:
Nanda Prato, Human Resource Director
Changing Tides Family Services
2259 Myrtle Avenue
Eureka, CA 95501
APPLICATION DEADLINE: OPEN UNTIL FILLED. Application and job description available at www.changingtidesfs.org and at 2259 Myrtle Avenue, Eureka, CA 95501.

We are operating under strict COVID-19 safety protocols including daily health screenings, required masks, and increased handwashing and cleaning practices per the Reopening Plan certified by Humboldt County.
We are an Equal Opportunity Employer.