Part Time Sales Associate
Belle Starr
Posted: Jan. 13, 2022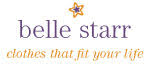 Part-Time Sales Associate, Women's Clothing Boutique

Looking for a part-time job that will engage you in the community, provide opportunity for growth, and introduce you to an amazing group of customers and coworkers? Belle Starr women's clothing boutique, located in Old Town Eureka, may be the job for you! Our focus is on the customer and providing the best service possible to make each visit to our store a positive experience. We actively participate in community events (such as Eureka Fashion Week, Arts Alive, and the Haunted Runway Fashion show) and we support many nonprofit organizations (including The Breast and GYN Health Project, Eureka Street Art Festival, Betty Chinn, Food For People, and Main Stage Humboldt). Our team encourages personal and professional growth and values innovation, collaboration, and diversity. We seek a part-time Sales Associate with experience in the service industry, who works well with both the general public and with coworkers, to join our team.

Do you have these qualifications/skills/experiences?
~ Experience working directly with the public, whether through work or volunteer experience
~ Good customer service skills, personable
~ Dedication to treating all customers and team members with respect and equity
~ Ability to work under direction, independently, and as a team member
~ Reliability and punctuality
– Proof of vaccination from COVID-19
~ Willingness to work additional shifts as needed
~ References from at least two people who can attest to above qualifications (see application details at end of listing)

Are you interested in broadening your knowledge of the following?
~ The fashion industry, clothing or accessories sales, or manufacturing
~ Fabric, color names, styles, and fashion vocabulary
~ Working a register and using a Point of Sale system
~ Critical thinking and problem solving skills

Hours available: The position is for 2-3 days/10-18 hours per week during scheduled business hours. Preference will be given to candidates who can work any day/time, and at least one Friday/Saturday/Sunday shift.

Compensation:
~ Starting wage of $15/hour, with a $1 raise after a 60-day probationary/training period
~ Store discount and an opportunity to earn clothing credit based on daily group sales goals (post probation)
~ Paid sick leave, per CA law

Want to know more about the store and team before applying?
Our online store: belle-starr.com
Facebook: @BelleStarrClothing
Instagram: @belle.starr.clothing


If this sounds like the job/place/team for you, here's how to get started:
~ Prepare a brief cover letter summarizing your skills and explaining your interest in working at Belle Starr
~ AND a resume including at least two references
~ Bring both documents and submit them IN PERSON at Belle Starr (405 2nd Street, Eureka). Applications accepted Tuesday-Saturday between 10 am - 4 pm until filled.
~ Note: Incomplete applications, digital submissions (email, Facebook, etc.), or inquiries by phone or email will not be considered.

We look forward to getting your application! We'll be screening applicants through 1/26 and will be in touch by email the last week of January to schedule interviews.