Accounting Specialist I
City of Eureka Housing Authority and County of Humboldt Housing Authority
Posted: Aug. 4, 2022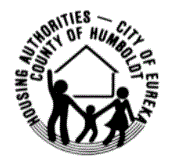 CITY OF EUREKA HOUSING AUTHORITY
COUNTY OF HUMBOLDT HOUSING AUTHORITY
Job Title: Accounting Specialist I

Grade: $3,279/month + benefits package
Application Closing Date: Open until filled
Under the direction of: Director of Finance and Administration
Please click the link for the job application packet or you may inquire by emailing Heather Humphreys at heatherh@eurekahumboldtha.org. In your email, please use a subject line of "Accounting Specialist I". In the body, please request an application packet. You may also pick up the application packet at the Housing Authority office, located at 735 W. Everding Street, Eureka, California, on Tuesday – Thursday between the hours of 10:00am – 3:00pm.
Applicants are required to return a letter of interest and resume along with the standard application included in the packet. This position will remain open until filled. Interviews will be scheduled as soon as possible.
SUMMARY
Performs the duties of an accounting specialist within the finance department, process payroll, payables and work order processing. Assist Accounting Manager with other tasks as needed.
ESSENTIAL DUTIES AND RESPONSIBILITIES include the following. This list is meant to be representative, not exhaustive. Reasonable accommodations may be made to enable individuals with disabilities to perform the essential functions.
Processes accounts payables and payroll.
Prepares payments for rents, security deposits and other tenant charges.
Accepts monies that come into the agency; prepares daily bank deposits, directs deposits to appropriate accounts.
Receives work order requests for repairs to Public Housing owned units.
Scheduling annual inspections for Public Housing owned units and preparing letters for participants.
Places inventory orders and maintains relationships with existing and new vendors.
Maintains a variety of records including organizing and filing.
Reviewing past tenant files to determine debt due to our Agency.
Distributes and processes daily mail.
Assists with preparing mass mailings to tenants and landlords.
Driving to the Post Office, Staples and other various local businesses for errands.
Performs related duties as assigned.
Job descriptions are written as a representative list of the ADA essential duties performed by the entire classification. They cannot include, and not intended to include, every possible activity and task performed by every specific employee.
FLSA Status: Non-Exempt