Anthony B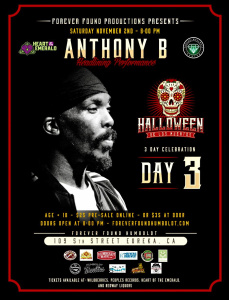 Forever Found Humboldt Venue Celebrates Halloween/ Dia de los Muertos with 3 days of events from 10/31 -11/2,
We are proud to be welcoming back the reggae legend, original fireman Anthony B on Saturday, November 2, in Eureka with Costume Contests & more.

On Saturday, November 2, Humboldt welcomes back the original "Fireman" Anthony B, with opening act The Higher Logic Project.

Advance Discounted TIckets available at Heart of The Emerald Dispensary [next door to Forever Found on B St.] and on Eventbrite: $25 advance event tickets available on Eventbrite.com ($35 at the door).
18 & Over Event
Ticket Link: https://www.eventbrite.com/e/halloween-de-los-muertos-featuring-anthony-b-tickets-73628375453

Humboldt welcomes back Jamaican deejay and member of the Rastafari movement, Anthony B back for an 18+ reggae concert. Anthony B embodies all that it is spiritual and proactive about reggae music. This artist has been steadfast in his mission to represent the poor and oppressed, using sharp lyrics to confront political injustices and bring the issues of the people to the forefront. In the process, he has raised the quality of performance standards and lyrical content for the industry, through the release of 13 albums, over 1000 singles and appearances on over 100 albums in the last 14 years.

Opening act, The Higher Logic Project, is a high-energy rock inspired reggae group that represents the emerging artistic counterculture and were a big hit at the Funk N Reggae Music Festival in Blue Lake.

This evening also features a costume contest with a $200 prize for best costume ($100 gift certificate to Heart of the Emerald Dispensary plus $100 cash.

Sponsors to this event are Heart of the Emerald Dispensary, Pierson's Hardware and 8 Mile Family Farms

For more information www.ForeverFoundHumboldt.com. info@ForeverFoundHumboldt.com or call 707-834-9781.
DATES/TIMES
WHERE
PRICE
$25 / $35 at the door
Ages: 18+
CONTACT INFO
Phone: 834-9781
Email: info@HumboldtCountyGrown.com
---