Fortuna Apple Harvest Festival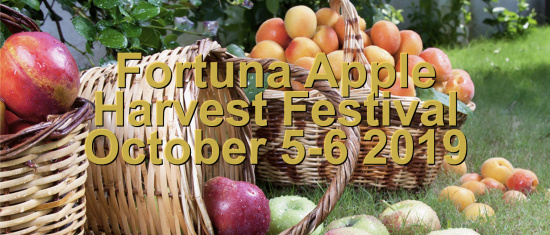 Come to the Old Fashioned Street Fair in Downtown Fortuna during The Apple Harvest Festival. Jump on a hay ride in Fortuna because The Apple Harvest Festival is a city wide event. Free hay rides to 5 different venues in the friendly city, including downtown. The Downtown Street Fair will have food booths, including the Fortuna High School apple pie fund raiser for the Music. Department. Check out the craft and artisan booths, including jewelry, woodwork, plants, wind-chimes, clothing to name just a few, and local downtown merchants will be on hand too with specials and sales. Kids are welcome and there will be live music at this family fun event.
2019 Schedule
City Wide
FREE Hayrides to five stops around town 10 AM to 4 PM
2019 Fortuna Apple Harvest Festival Events
Strong Creek Plaza
Mary Ann's
- wax hands
Toddy Thomas 8th Grade
- pumpkin and bake sale
Bob Frawley's
- horse & buggy rides
Shriner's
- clowns & child id's
Cookies Are My Canvas
- cookies
Hydesville 8th Grade
- mini apple & pumpkin pies
Mary Kay
Roger Sanderson's
- live band
Early Literacy Program
- selfie booth
Sequoia Springs Alzheimer's Walk
- cotton candy & popcorn
FUHS Safe & Sober
- face painting & apple blossoms
Hydesville 4-H
- lamb BBQ tickets
FUHS FFA
- petting zoo
Clendenen's Cider Works
Saturday October 5th 2019
Noon – 1:00
Scotia Band
historic town band, a tradition at Clendenen's
1:00 – 4:00
Falling Rocks
Country Swing and Americana
11:00 – 4:00
Applewood Barbecue
grilled hamburgers and hotdogs featuring local grassfed beef and local produce
10 :00 – 4:00
Orchard haywagon rides
Tour our orchard and learn about our history on a narrated hayride
Apple tasting
Sample new and vintage varieties including Mutsu, Jonagold, Idared
Sunday October 6th
11 – 3
Apple tasting
11 – 3
Orchard Hayrides
11 – 3
Nighthawk
classic rock, country, R & B
Fortuna Downtown Apple Harvest Festival
9 am to 5 pm
Come relax on Main Street with live music while eating great food and shopping at many artisan craft vendors and merchant street sales. The day includes:
A free hay ride stop
Music from
Jimi Jeff & the Gypsy Band
from 10:00 -1:00.
Music from
Dog Friendly
1:00 – 4:00
Apple crisps, apple pies, flavored shaved ice, kettle corn, hot dogs and many more food choices
Over 30 different artisan and craft vendors
Many Main Street merchants will be out in front of their stores with deals.
Fortuna Disaster Fair
The American Red Cross
The US Army
(they are bringing their climbing wall)
US Army National Guard
helicopter (Blackhawk)
Sheriff's Office of Emergency Services
(Mobile Command Center and Bearcat)
The National Weather Service
Humboldt County Emergency Amateur Radio Volunteers
US Marine Corps
US Coast Guard
will be doing a flyover
Ambulance Service

Cal Fire
ROHNER PARK HAPPENINGS
Fortuna Middle School
serving breakfast and lunch out of the cook shack
Big Park Variety Sale
(Vendors of all things)
Bocce Ball Tournament
Depot Museum
Apple Harvest Skate
4-7 pm
YEP
Fundraiser
DATES/TIMES
WHERE
PRICE
---