Arcata State of the City Meeting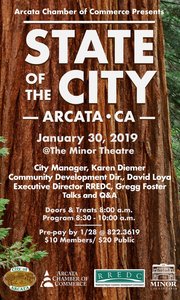 Presenters include
Arcata City Manager, Karen Diemer
Community Development Director, David Loya
Executive Director of Redwood Region Economic Development Commission, Gregg Foster
There will be a moderated q&a following the presentations.
Theme will include economic drivers (challenges and potentials), tourism, housing, wage/labor, in-fill plan, plaza update, wind energy update, and much more.
Pre-pay by 1/28
$10 for Arcata Chamber Members and $20 for the Public
707.822.3619 or arcata@arcatacham…
*Coffee and treats will be provided.
DATES/TIMES
WHERE
PRICE
CONTACT INFO