Arts!Arcata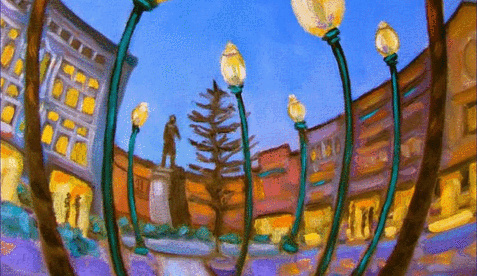 The free, self-guided, public art phenomenon known as Arts! Arcata brings together art lovers and community friends to the ever-growing downtown area of Arcata. With exciting and unique offerings around every corner, the city of Arcata in concert with Arcata Main Street celebrates the arts each and every month on the 2nd Friday.
Arts! Arcata transforms downtown Arcata into an arts district, featuring the work of more than 60 visual artists and live musicians at 30 participating locations. The event is free to the public and has become a much-anticipated monthly event drawing visitors from all over the county.
Many locations stay open late and offer patrons wine or beer for a donation towards local non-profit organizations. Arts! Arcata is a great opportunity to meet local artists and is for people of all ages who can enjoy being downtown at a safe, family-friendly community event.
JANUARY 2016:
Celebrate the new year with art, music and your friends! Check back next week for the complete list, this is just the beginning. Thank you to everyone who has made Arcata so culturally rich and fun in 2015.
ARCATA ARTISANS: 883 H St. "Best of Show," Joyce Jonté and Dana Ballard, paintings; Libby George and Patricia Sennott, print making; Jim Lowry, photography; and Betsy Roberts, metalwork.
ARCATA EXCHANGE: 813 H St. Tony Gonzalves, photography; music by Lizzy Moonbeam; wine pour benefits the Companion Animal Foundation.
BUBBLES: 1031 H St. Music by local singer-songwriter Claire Hashem.
GALLERY MÈTIER: 1034 H St. "Humboldt Humans, Part 2," Bob Doran, photography; Forget Me Not Photos; live music.
JACOBY'S STOREHOUSE, PLAZA VIEW ROOM: 780 8th St. "Metaphorical Portraits," Arcata Arts Institute Student Work, inked illustration and mixed media portraits on layers of foam core.
MOONRISE HERBS: 826 G St. "Landscapes, Local & Beyond" Meg Graham, photography; music by Kyle from ARhythymKick Production playing guitar with ambient backgrounds.
PLAZA: 808 G St. "North Coast Shorescapes, Glaciers and Lovely Bugs", Claire Iris Schencke, mixed media and oil monotypes; wine pour benefits Devon's Vision (an Ink People Project).
THE SANCTUARY: 1301 J St. Marisa Kieselhorst and Sierra Martin Exhibitions, vibrantly colored paintings.
STOKES, HAMER, KAUFMAN & KIRK, LLP: 381 Bayside Road. Jan Hollander, Cynthia Noble and Karen Frazee, oil and watercolor paintings; music by Howdy Emerson (Celtic Harp); wine pour benefits the American Cancer Society—Relay for Life Team #169.
UPSTAIRS GALLERY AT UMPQUA BANK: 1063 G St. "Season of Light", Gina Tuzzi, Sarah Lesher, Nicole Kita, Jesse Wiedel, Thrn Brooks, Brent Eviston, Libby George, Patricia Sennott, John King, Regina Case, Jim McVicker, Terry Oates, D'mise, Natalie Craig, Phyllis Barba, Jeff Cross, Rachel Schlueter, Stock Schlueter, Blake Reagan, Sonny Wong, Shawn Griggs, Andrei Hedstrom, Guy Joy, David White, Amy Granfield, Lita Penkova, David Safire, Marceau Verdiere, Ana, Amezcua, and Georgia Long.
If you want more info just call (707) 822-4500
DATES/TIMES
WHERE
PRICE
---