Earth Day Festival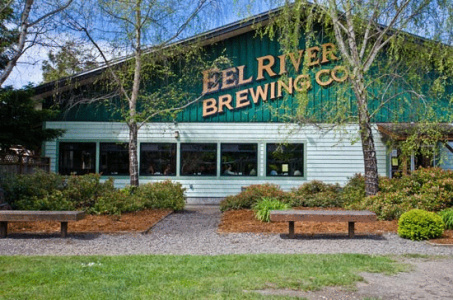 Eel River Brewing Company loves a good reason to celebrate and what better reason than Earth Day? This year, on Monday, April 22nd, from 3pm to 7pm, they are hosting Earth Day E.R.B., a huge festival in the beautiful Eel River Brewing Company beer garden. This is the perfect occasion to grab a friend or two or bring the whole family, and visit Friendly Fortuna for a truly unique community experience. Earth Day E.R.B. is going to be a whole lot of fun and admission is absolutely free.
Earth Day E.R.B will feature live music, tie dye table, Henderson Center Bicycle's first ever Earth Day Bike Show, and many interactive booths from local earth friendly businesses and groups.
If Earth Day had a soundtrack, Compost Mountain Boys would be on it. A mix of guitar, bass, banjo, mandolin, strong vocals, sweet harmonies and good energy make these guys the crowd pleasers that they are. A Humboldt County favorite, Compost Mountain Boys always seem to get toes tapping, hands clapping, and lots of people up and dancing. With a reputation like that and the name Compost Mountain Boys, they were clearly the perfect fit to take the stage at Earth Day E.R.B.
The music is going to be incredible but this is so much more than a concert- this is a festival. Think Oyster Festival meets Hops in Humboldt with an Earth Day twist. The Tie-Die booth will be open for business as supplies last. Local artists Stephanie Gurley and Marissa Bourne will be on hand to assist festival goers in designing their own tie-die creation. B.Y.O.T (Bring Your Own Tee-Shirt) or purchase one from Eel River Brewing Company.
Henderson Center Bicycles presents the first ever biketastic Earth Day Bike Show. Check out the latest models of environmentally friendly transportation and learn all about the benefit of riding bicycles from their expert staff.
Eel River Brewing Company is proud to announce the participation of several other local earth friendly businesses and groups. In addition to Henderson Center Bicycles, several other booths will be open and ready to offer up an interactive experience. Both Surfrider Foundation and Ocean Conservatory will be there to share the current state of our ocean and what people can do to get involved in keeping our local beaches beautiful. Lost Coast 4X4's booth will provide information about their Eel River Cleanup Project.
By Nieves Handmade Natural Bodycare, featured in People Magazine and The New York Times, will be hosting a booth as well. By Nieves recently moved their company headquarters from San Francisco to Petrolia and they are excited to meet the community and share information about the advantages of using skin care that has, as their company slogan so eloquently puts it, "everything good, nothing bad."
Redwood Coast Energy Authority, Eel River Disposal, Humboldt Coffee Company, and KJ Hanz Fitness and Kettlebell Sport will all be hosting booths at Earth Day E.R.B. with lots of information on the ways their businesses are contributing to the cause of making our planet a happier, healthier place.
Eel River Brewing Company hopes to see you there. The pub will be running happy hour prices on their delicious, high quality, organic beer during the festival and those who carpool or come to Earth Day E.R.B. using earth friendly transportation will be receive a 10% discount on food. Eel River Brewing Company is located at 1777 Alamar Way in Fortuna. Need directions? Just give them a call at 707-725-BREW.
DATES/TIMES
WHERE
PRICE
---