Eureka Fringe Festival: Friday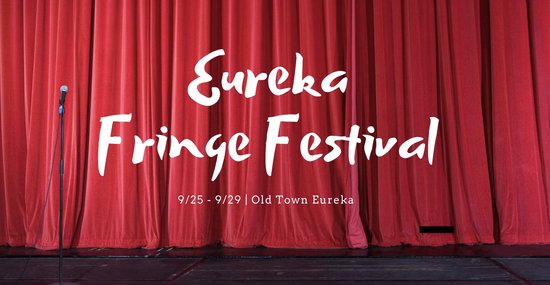 -FRIDAY EUREKA FRINGE FESTIVAL PERFORMANCES-
The Comix Trip
4 - 4:30 PM
The Comix Trip is a storytelling group with drawings projected on an overhead projector (not digital). All the stories are written and drawn by me. I tell the stories, while I move the drawings around on the projector to simulate animation. I have a group of four musicians who create a choreographed soundscape that goes with the story, using guitar, musical saw, accordion, and various noise-makers. The stories are for all ages, though some of the ghost stories are a little scary for young children. The group wears black and white costumes, stage make-up and wigs. We are a sort of vaudeville act with mid-century era technology. The stories draw from themes of environmental conservation, science fiction, and spooky ghost stories. Most of the drawings are inspired by the scenery of Humboldt county. The group has been performing locally since 2011.
$5
# # #
The Brothers Gorbolski
Synapsis Nova
4:30 - 5:30 PM
A One Person Seven Character (Clown) Show. The Great Gorbolski puts on the family show he's always dreamed of. A precociously dramatic boy inspired by the circus tradition in his native country of Salami-land, Garbolski (now grown up) has enlisted his cousin Tibi and his two very different brothers Dimitri and Peter to make a show. His mother steps in to provide a touch of uninvited family history, and his step-dad who is works for Homeland Security, works security. An absurd exploration of family, intergenerational trauma, dictators and what it means to be American. Mickey Galloway studied clowning at the San Francisco Clown Conservatory, and with Phillipe Gaulier and James Donjon. His solo work has graced the stages of PianoFight, the Marsh, and The Undisclosed Location in San Francisco. He has upcoming appearances at Lunacy Festival in Ashland, and the Oakland Comedy Festival. He also plays music with the Sour Mash Hug Band and Zla Vila.
$7
# # #
Clownfish
5 - 6 PM
"Clownfish" is an hour of stories of trying to find your place in the world and observations about how we treat this weird divide between "man" and "woman". It's honest as all get-out, glam as Hell, as weird as America, and also happens to rhyme.
$7
# # #
Improv'n Humboldt Epic Journey
5 - 6 PM
Come join us as we create many new epic tales through your many ideas and
suggestions. Imagine a 1,000 page book of an epic journey unfold before your eyes, designed to be played out in 5-20 minutes - talk about magic. There may even be song & dance, but for sure character and story arcs to tickle your funny bone.
Improv'N Humboldt Family Friendly Comedy
$7
# # #
Lil' Red Variations
6 - 6:45 PM
The Lil' Red Variations is a new work that explores gender roles, societal expectation, sexual identity, and the socio-political landscape that we all navigate daily. Adult themes and content warning.
$7
# # #
Nate's Magic Corner
6 - 6:30 PM
What is magic in a world where every mystery can be explained with a youtube search? A show about the history of trickery and the tenuous future of illusion- featuring magic tricks, juggling, clown, and an armchair. "WARNING: this show contains magic tricks, acrobatics, juggling, and a death defying escape."
$5
# # #
Spilled Popcorn, Sticky Cotton Candy
6:30 - 7:30
In the theatrical world of the circus, there are possibilities of joy, transcendence and meaning. But there is also the possibility for the complete opposite. In this contradiction lies the magic of the circus. He juggles, he dances, he portrays multiple characters….
Calder Bullwinkle writes and performs like a man on a mission while encouraging insight, sharing philosophical musings, all the while creating humorous and often uncomfortable theatrical moments. He guides us on a 45 minute journey and to a destination we ultimately all share.
$7
# # #
Improv'n Humboldt The Lost City
8 - 9:45 PM
Discover and help unfold the mystery of a lost people and city as we see through the eyes of all that is left: an archival recording of one full day of programming on their local TV network. We will use your words, suggestions, and more to discover the news, talk shows, soaps, commercials, movies, music, sci-fi, romance, and mystery that made this lost city so vital to our culture today.
Improv'N Humboldt Family Friendly Comedy
$10
# # #
MINGALABA
7:15 - 8:15
A Channel-flipping exploration of personal pain and good-humored resilience. This experimental piece explores madness, pantomime, punk, comedy and the absurd.
$7
# # #
The Revolutionists
8 - 10 PM
Four beautiful, badass women lose their heads in this irreverent, woman-powered comedy set during the French Revolution's Reign of Terror. This grand and dream-tweaked comedy is about violence and legacy, art and activism, feminism and terrorism, compatriots and chosen sisters, and how we actually go about changing the world. It's a true story. Or total fiction. Or a play about a play. Or a raucous resurrection…that ends in a song and a scaffold.
$18
Spider's Web
8 - 10 PM
Tension, laughter, and murder take center stage in Agatha Christie's comedy whodunnit, Spider's Web. Clarissa is intent on not letting a little thing like a murder in the drawing room get in the way of her husband entertaining an important guest. Filled with trap doors, misunderstandings and outrageous secrets, Spider's Web will keep you guessing and laughing at the same time.
$18
# # #
Circus Cabaret Emporium
8:45 - 9:30
Freaks, wonders and curiosities! A panorama of the weird, the strange, the odd and the unusual! See the human blockhead drive a nail into his head! See the electric girl withstand 500,000 volts of electricity! See the beautiful burlesque dancing girls! It's all real, it's all alive and it's all on the inside. Spikes, sledgehammers, electricity, animal traps, broken glass, fire and water torture will kick-start the progressively innovative and alluring nightly new escapades of these human marvels. Seeing is believing! You will not see anything like it for as long as you shall live
$7
DATES/TIMES
WHERE
PRICE
CONTACT INFO