Dem Debates: Fun, Games and Lies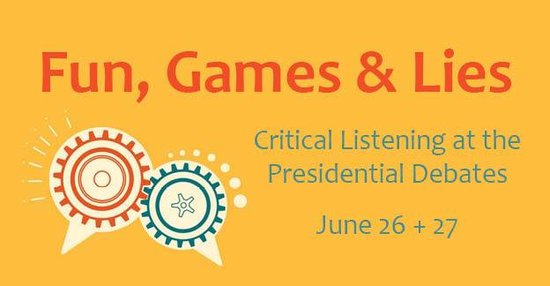 Laugh, snicker, scoff and learn at "Fun, Games & Lies," two back-to-back debate watching parties presented by the North Coast People's Alliance (NCPA). Yes, there will be beer. Yes, there will be snark. Yes, there will be real information and tools for separating glib garbage from meaningful change. Why watch the debates at home when you can play "Dodge and Spin Bingo" with NCPA, then cast your ballots for "slimiest," "most inspiring," "least likely to become president" and much more?
The non-partisan NCPA, well-known for its seminars on how to run for local political office and for its free Voter Van, brings voter education with an attitude to these two free evenings, being held June 26 and 27 at the Savage Henry Comedy Club, an all-ages venue at 415 Fifth St. in Eureka. Co-sponsors are Centro del Pueblo and the Eureka Branch of the NAACP. On both nights, doors open at 5 p.m., political satire begins at 5:30 (along with Dodge and Spin Bingo rules – a can't miss!), and the televised debates will be broadcast from 6 to 8 p.m. We'll highlight some sneaky debate tricks you might see, and you'll leave with a list of resources for staying alert, aware and hype-resistant during the 2020 presidential campaign.
DATES/TIMES
WHERE
PRICE
CONTACT INFO
Email: hello@northcoastpeoplesalliance.org