Guitars For Gamers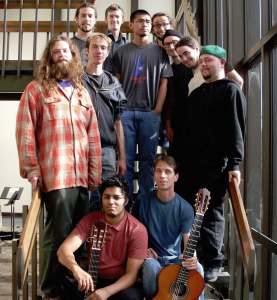 Guitars For Gamers with HSU Guitar Ensemble

How do you survey 20th century music and leave out spaghetti westerns, African rhythms and video games? If you're the HSU Guitar Ensemble in their April 19 concert, you don't.

Video games have reached well over a billion people, HSU Music professor and Guitar Ensemble director Nicholas Lambson points out, and many use original music as part of the experience. "People who have grown up with these games remember the music and sound effects well, and arrangements are frequently performed by professionals and amateurs today," he said. "We decided to dedicate part of our own concert on April 19 to video game music."

"Our students have done much of the arranging themselves," he added. In addition to selections from the classics (Super Mario Brothers and The Legend of Zelda) the Ensemble explores music from the cult game Chrono Trigger.

The first half of the concert features Toru Takemitsu's "Bad Boy," inspired by music for spaghetti westerns, and William Kanengiser's "Mbira," which alters the guitar to sound like this African instrument.

The Ensemble plays famed 20th century composer Paul Hindemith's only composition for guitar, a style-spanning dance suite by John Duarte, and a crowd-pleaser by Czech guitarist and composer Štěpán Rak, who Classical Guitar Magazine called "one of the great geniuses of our time."

Members of the Guitar Ensemble are Jason Hall, Jerry Olofsson, Kris Lang, Dan Fair, Charlie Sleep, Justin Santos, Greg Willis, Tyler Vaughan, Rory Urquhart, Jake Masterson and Nigel Gunn.

The HSU Guitar Ensemble performs on Friday April 19 at 8 p.m. in the Fulkerson Recital Hall on the HSU campus in Arcata. Tickets: $7/$3/ students and seniors from HSU Ticket Office (826-3928) or at the door. HSU students admitted free. Directed by Nicholas Lambson, produced by the HSU Music Department.
DATES/TIMES
WHERE
PRICE
---