Head for the Hills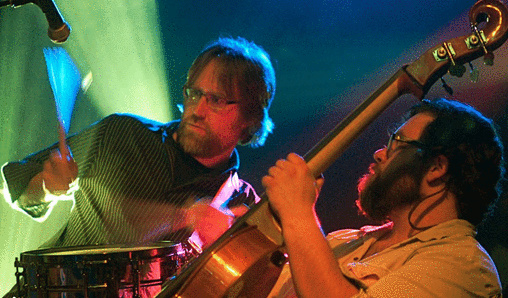 The past year has been outright explosive year for the quartet, having been voted by the Westword (Denver, CO) as the "Best Bluegrass" band in Colorado, a highly esteemed honor. Additionally, the band has been receiving national attention, not only from their recently released self-titled studio effort, but also from E-Town (Boulder based not for profit radio station and community builder). A portion of their performance of Harvestival-Fort Collins, CO (recorded October 2009), was aired nationally on radio stations this past April, alongside the David Grisman Quintet, who also performed at the event. The group was selected to perform at SxSW in 2011, and were also a "SxSW Critics Picks-Must See" choice, via the Austin Statesman/360

To get a sense of Head for the Hills' snowballing momentum, look no further than the surrounding talent on their self-titled sophomore release (2010), Head for the Hills. The album garnered the group a charted position on the CMJ Top 200 national radio listings. The six-year old pickers attracted heavyweights like longtime bluegrass aficionado, Drew Emmitt (Leftover Salmon) as their producer who took them up to Bill Nershi's Sleeping Giant studio to record. Studio engineer Gus Skinas engineered the effort, boasts a particularly intriguing history having digitally remastered Pink Floyd's Dark Side of the Moon; helped Sony develop the early iterations digital audio; and invented an innovative multi-tracker called Sonoma that combines the warmth of analog with the ease and efficiency of digital. In addition, Vance Powell — who adorns his mantle with a Grammy for his work on the Raconteurs wildly successful Consolers of the Lonely album — mixed the record. The self titled release earned the group a #29 position on Colorado Radio's "Top 50 Albums of 2010."

In 2007, for their debut studio effort, "Robber's Roost," the band joined forces with the talented producer/performer Sally Van Meter. Ms. Van Meter, among her impressive list of accomplishments, is credited for her 1994 Grammy Award Winning work on The Great Dobro Sessions. She has also produced albums for artists like Yonder Mountain String Band, Open Road Bluegrass and Allison Brown.

Head for the Hills have performed, supported, & shared programming with such notables as: David Grisman, Sam Bush, The Flaming Lips, Ben Folds, Bruce Hornsby, Emmylou Harris, Dr. Dog, Little Feat, Nickel Creek, The Avett Brothers, Yonder Mountain String Band, Tim O'Brien, Peter Rowan, Doc Watson, Railroad Earth, and have performed at Wakarusa Music Festival, Telluride Bluegrass Festival (NightGrass), Northwest String Summit, Mulberry Mountain Harvest Festival, Grand Targhee Bluegrass Festival (Official Evening Performance), Yarmony Grass Music Festival, Bristol Rhythm and Roots and many more.

Many respected avenues have sighted Head for the Hills as the next breath of fresh air to emerge from the acoustic realm. With direction from a plethora of talented company and an ever-evolving approach to progressive acoustic music, there is no telling what successes lay ahead for this group of talented musicians.
DATES/TIMES
WHERE
PRICE
---