High Times Presents: Reggae on the River 2018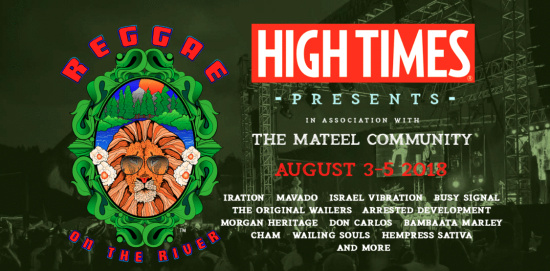 The 34th Reggae on the River® presented by High Times in association with the Mateel Community Center takes place Friday August 3rd through Sunday, August 5th at French's Camp along the banks of the Eel River.
The organizers have announced the between sets DJ's for the weekend including Jah Warrior Shelter Hi-Fi, Just One, Guerilla Takeover Sound, Jacques of WBLK, Casa Rasta Sound, 
Green B, Spliff Skankin, G. Davis, Onewise Sound, Smoke-1 of One Blood Sound & Stay Positive Sound. The stage area located near the Eel riverbank known as South Beach will feature DJs from
11-3pm
and
12 midnite to 4am.
The DJ's at South Beach include this list above as well as Full Watts, Cassidy Blaze, Rocker-T Dubsmashers, Konnex, INI, Rundat, Guidance & Treez.
A special Mateel Community Center discount code has been made available, use MATEELVIP at check out to receive 10% off your ticket purchase by
Thursday, August 2nd at 11:49pm PST
.
Free local shuttle service will be offered by Jah Motion again at this year's festival. Regular service will be provided to Redway, Garberville, Benbow, Dean Creek and within the French's Camp area beginning Friday August 3rd through Monday, August 6th. Shuttles will pick up/drop off approximately every 30 minutes with stops at the Majestic Center (Redway), Chevron (Garberville), the Golf Lot (Benbow), and the festival site.

The local French's Camp shuttle will pick up/ drop off approximately every 30 minutes with stops at Richardson Grove State Park, Cook's Valley Patriot Station/ Richardson Grove RV Park, and the festival site. Buses will operate continuously starting one hour before the concert bowl opens each day and ending approximately 2 hours after the show ends each night. Internal shuttle vans will bring people from the admissions area down Bob Marley Blvd to the concert bowl. The pick up at the bowl area is located directly across from the main entrance to the concert bowl.
DATES/TIMES
WHERE
PRICE
$85 / $225 three-day pass
CONTACT INFO
---