Hoodslam: Emerald Triangula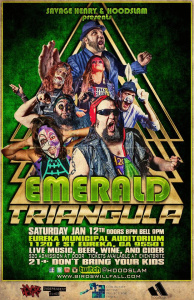 Hoodslam returns to the Eureka Municipal Auditorium to once again team up with Savage Henry and bring you the wildest event coming to town - EMERALD TRIANGULA!

Featuring Broseph Joe Brody on commentary, live music by the Hoodslam band, and beer! Glorious beer!

Featured on the event (probably, we're not fortune tellers) -

Rick Scott and Scott Rick Stoner, The Stoner Brothers!

The psychotic secratary of safety, Nurse Ratchet!

The Rabbit with a Habit, DRUGZ BUNNY!

From the most maniacle parts of the midwest, HOLIDEAD!

Representing the arrow club, Dezi Derata!


Much more! So much…but Hoodslam is NOT for everyone, so please take our advice and

DO NOT BRING YOUR FN KIDS

We say this because we care!
DATES/TIMES
WHERE
PRICE
CONTACT INFO
---