Humboldt Roller Derby Skater Training Camp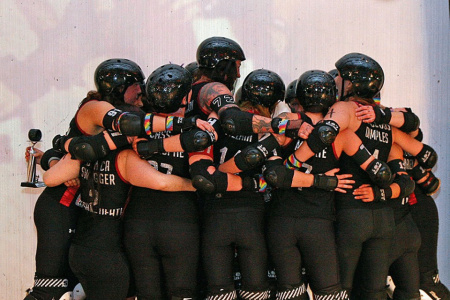 Skater Training Camps
Want to get in great shape, all while making some awesome new buddies? Well luckily, our next skater training camp is right around the corner, and no skating experience is necessary! (YES, IT'S TRUE).
Our next camp will take place July 15th - October 16th on Tuesdays and Thursdays, from 6-7pm at Redwood Acres Fairgrounds.
Learn basic skating skills and get in top athletic shape to prepare for our Level 2 training camp, and eventually to be recruited onto the team. For just $150, you can train with the skaters of Humboldt Roller Derby for 16 weeks! Skaters must be 18 or older to participate. Under 18? Check out the Redwood Saplings!
Referees & Non-Skating Officials
We're always looking for new members to join our Posse! Officiating can be a great way to get involved if you love derby but don't want to compete.
Skating referees are needed for weekly practices year-round, and monthly bouts during derby season. Emailreferee@humboldtrollerderby.com with any questions.
Non-skating officials (NSOs) are needed for monthly scrimmages year-round and monthly bouts during the season. These positions are important for tracking scores and other bout statistics. Email nso@humboldtrollerderby.com if you'd like more info!

Volunteers
Be a part of the HRD volunteer army! Click here to learn more.
DATES/TIMES
WHERE
PRICE
CONTACT INFO
Phone: 445-3037
Email: info@humboldtrollerderby.com
---