Humboldt Roller Derby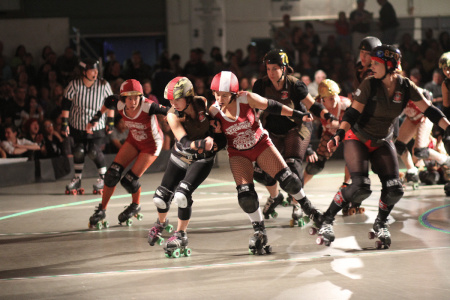 Redwood Rollers to Rock with Mendo Mayhem
Humboldt's own Redwood Rollers derby team will skate against Mendo Mayhem on Saturday June 8th, 2013 in a rocking double-header bout at Redwood Acres, Francheschi Hall.
They will be preceded by the first public bout by our junior league team, the Saplings, against the Silicon Valley Web Bruisers. These girls range in age from 8 to 18 and put on a fantastic sports display.
Tickets are $15 at the door and $12 in advance, available from Peoples' Records (707 822 ROCK) in Arcata and The Works (707 442 8121), or online at www.humboldtrollerderby.com. Kids under 10 are free.
North Star Quest Camp for Girls is the beneficiary of beer sales, which are provided by Six Rivers Brewery and Mad River Brewery.
Doors open at 5:00; First Bout 6:00, Second Bout 7:30ish
DATES/TIMES
WHERE
PRICE
$15 / $12 adv. / Free Kids age 10 and under
CONTACT INFO
Phone: 445-3037
Email: cmbeding@charter.net
---