Breaking Habits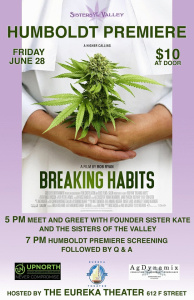 Don't miss the Humboldt premiere of "Breaking Habits," a new documentary about Sister Kate, founder of the Sisters of the Valley, AKA the Weed Nuns.
Cheated by her stealing, polygamist husband of 17 years, once high-flying corporate exec Christine Meeusen fled penniless with her three young children as her American dream began to unravel. Determined to make a living for her family, she discovered the lucrative business of cannabis farming and met her calling as founder of medicinal-marijuana empire Sisters of the Valley. Shedding her former life, Christine became Sister Kate; on a mission to provide her products to those in need. Fighting off the county sheriff, and protecting her crop from deadly black-market thieves, 'Breaking Habits' is a story of rebellion, hope and revival. This is Sister Kate's journey to becoming the head of a fast-growing enterprise, a voice for the unheard—and possibly the most controversial nun in the world. The premiere screening occurs Friday, June 28 at 7 PM at the Eureka Theater, preceded by a meet and greet with Sister Kate and the Sisters at 5 PM, in the lobby of the theater.
Following the screening, there will be a Q and A with the Sisters.
Tickets are $10 and will be available at the door.
The event is sponsored by AgDynamix, LLC. and UpNorth.
'Breaking Habits' is directed by Robert Ryan, is not rated, and has a runtime of 87 minutes. Distributed by Good Deed Entertainment.
17:00-18:45
Meet and greet with Sister Kate and the Sisters of the Valley
19:00-20:30
Humboldt premiere of 'Breaking Habits'
20:30-21:00
Q&A with Sister Kate and Sisters of the Valley
DATES/TIMES
WHERE
PRICE
---