Native Ink Expo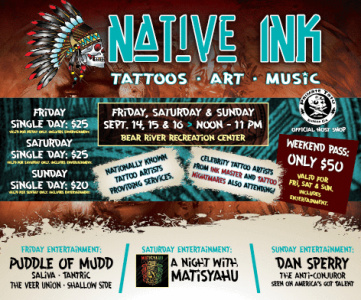 Bear River Casino Resort's Native Ink Expo featuring the nation's top tattoo artists, including artists from the TV shows Ink Masters & Tattoo Nightmares! Get tattooed on the spot by world renowned artists such as Jon Roberts, Roly T-Rex, Ricky Perez, Lee Collins, and many more! There will be tattoo contests, food & drinks, live entertainment!

Friday: Entertainment Starting at 8pm - Puddle of Mudd at 10pm
Saturday: Entertainment Starting at 8pm - Matisyahu at 9:30pm

The first Native Ink will be hosted at Bear River Casino Resort in Loleta California September 14,15 and 16, 2018.
This would be an amazing opportunity to take a family vacation and make money. To reserve a booth click here https://ragemore.regfox.com/native-ink-at-bear-river-casino-and-resort . To book your tattoo session visit the Native Ink Facebook page and book with the artist directly.

This event is family friendly, ALL ages are welcome.
DATES/TIMES
WHERE
PRICE
CONTACT INFO
Phone: 298-0632
Email: kylehudson@bearrivercasino.com
---