Song of Six Rivers Book Launch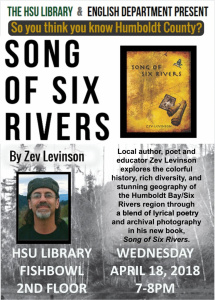 Humboldt State University Press announces the publication of Song of Six Rivers by Zev Levinson. So you think you know Humboldt County?
Local author, poet and educator Zev Levinson explores the colorful history, rich diversity, and stunning geography of the Humboldt Bay/Six Rivers region through a blend of lyrical poetry and archival photography in his new book, Song of Six Rivers. Zev will give a public reading to launch his new title. The poem is blended with historic photographs from the HSU Library Special Collections, most of which have never before been seen by the public. HSU and College of the Redwoods lecturer and indie publisher CM Phillips reviewed thousands of historic photographs, assisted by Ashley Schumann, incorporating nearly fifty of them into her handsome design. Contemporary, yet timeless, images were contributed by photographers Thomas B. Dunklin and Martin Swett.
Many locals know the author by his first name, Dan, who works with California Poets in the Schools. He has taught at Humboldt State University and College of the Redwoods, is a Redwood Writing Project teacher-consultant, and a founder and facilitator of the Lost Coast Writers Retreat.
DATES/TIMES
WHERE
PRICE
---