Soul Party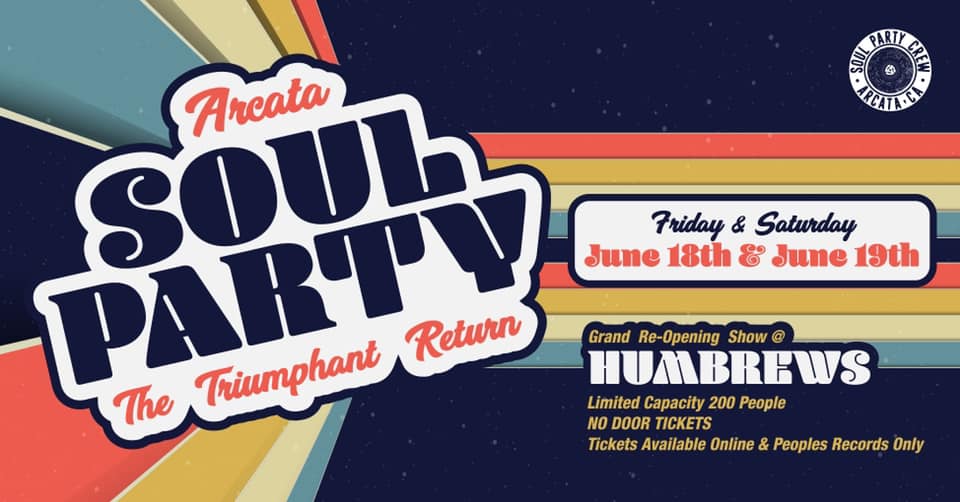 HELLO HUMBOLDT! Has it really been 16 months since Soul Party's last dance? Did you miss us? Think about us? Well, we sure have missed the heck outta you, so it is with great pleasure that we get to deliver the following three words:
WE'RE BACK, BABY!
That's right! Soul Party's triumphant return is a TWO-NIGHT event! Join resident DJ's Funky T-Rex, King Maxwell, DJ Red, and Philly Fresh on the nights of June 18 AND 19 where we promise you you'll dance those lockdown blues away.
Tickets should be available this weekend and can ONLY BE PURCHASED IN ADVANCE. You can get tickets in person (cash only) at People's records on the Arcata Plaza or online at humbrews.com.
Due to limited capacity (200 attendees each night), tickets will be $10 each!
What? The Resurrection of Soul Party!
Where? Humbrews, of course!
When? FRIDAY and SATURDAY, June 18th and 19th!
21 & over with valid I.D. This will sell out, so don't delay!
Stay on the One … Soul Party #1!
(Because people are going to ask, we're not sure what the mask policy will be, but we'll update that info when it becomes available.)
DATES/TIMES
WHERE
PRICE