The Stone Foxes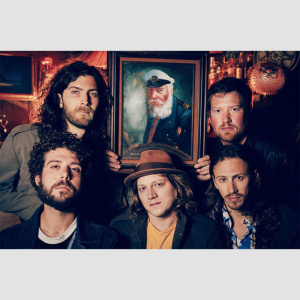 The Stone Foxes:
The Stone Foxes are San Francisco's rock band. They bear the torch of their predecessors with the knowledge that rock 'n roll can move a new generation. They've played in front of thousands at festivals like Outside Lands and Voodoo Fest, they've headlined the legendary Fillmore Theater in their hometown and they have supported acts like The Black Keys, Cage the Elephant and ZZ Top. Now, with the release of their fourth album, Twelve Spells, they have solidified a place in their City's rich rock 'n roll history

The sounds they are creating are new with tinges of western darkness, punk, surf, and americana, but are strongly tied together by their everlasting rock 'n roll core. Lyrics about gentrification, income inequality, romance, and heart surgeries pour out of their stream of consciousness. It's a fresh rock 'n roll album that chronicles the years of their unification, taking on the issues of their lives and our times.

Tango Alpha Tango:
Tango Alpha Tango isn't the band it once was. The tried-and-true riffage and raw psychedelia, once the cornerstones of singer-guitarist Nathan Trueb's particular brand of blues, have recently given way to a more pop-friendly kind of rock, as evident on the band's latest release, White Sugar. Songs like "I Gotta Girl" and the title track showcase familiar distortion and chugging electric guitar, though the rest are more polished and subdued. "People," for instance, has a carnivalesque design that banks on a lofty chorus and drummer Joey Harmon's fills, while "Lonely" takes a more soulful approach to heartbreak before turning to chiming guitars and an accepting mentality that echos Tom Petty's comeback album, Wildflowers. Trueb's bright guitar work is tighter than ever throughout, lined with fluttering bits of jazz and improvisation that build upon his subtle interplay with his wife, Mirabai, and Harmon. "I'll take you anyway I please/You might be the last thing that I need," he sings over the spare backdrop and gently plucked guitar of "Gasoline." He might be getting softer, but his music is better for it.
DATES/TIMES
WHERE
PRICE
---