Trinidad Art Night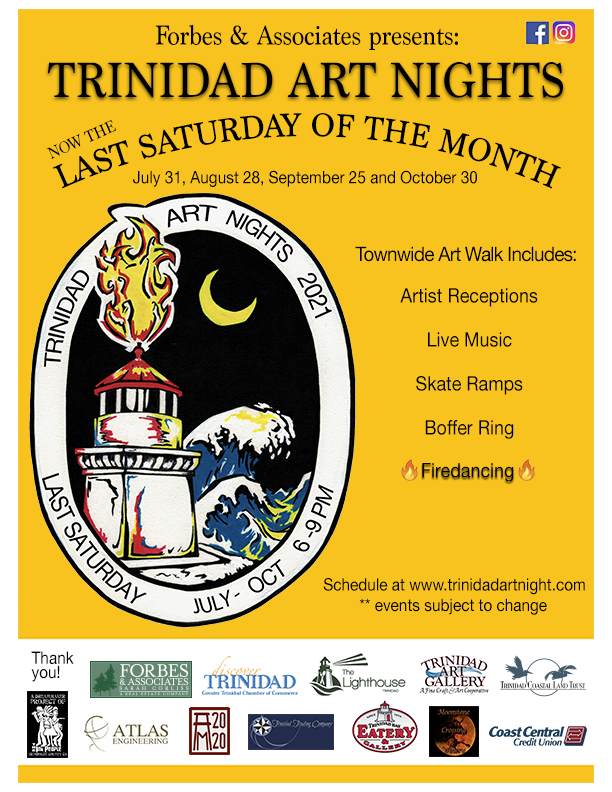 Now every last Saturday of the Month, 6 to 9 PM June 31st, August 28th, September 25th, and October 30th. Trinidad Art Nights returns for 2021! Venues throughout town will open up late for art viewing, music, dance and more. At the Trinidad Elementary school there will be a boffer ring, and a skate ramp set-up at Saunders Park. August will see the return of fire dancing to the streets. For more information, visit trinidadartnight.com Hosted by Community Arts Trinidad, a DreamMaker Project of the Ink People.
August will see the return of fire dancing to the streets.

FORBES AND ASSOCIATES 343 Main St. Artist TBA.


SIMMONS GALLERY 380 Janis Court. Artwork by Bobby Wright.


HOLY TRINITY CHURCH 528 Hector St. Assorted works by Antoinette Magyar in acrylics. Music TBA.

TRINIDAD TRADING COMPANY 460 Main St. Jewelry artists Danielle Hurley and Sara Straton. Music by John Nelson and Friends playing original and standard songs.

THE LIGHTHOUSE GRILL 355 Main St. Oil paintings by Jennifer Liu. Music by Absynth Quartet.


HEADIES PIZZA AND POUR 359 Main St, Trinidad, CA 95570. Abstract art by Reuben Mayes.


TRINIDAD ART GALLERY 490 Trinity St. Tom Kingshill and watercolorist Maureen McGarry. Music by artist members Howdy Emerson and JD Jeffries.


TRINIDAD EATERY 607 Parker Road. Artist TBA.


MOONSTONE CROSSING 529 Trinity St. Kenneth Fletcher, mixed media.


DATES/TIMES
WHERE
PRICE
CONTACT INFO
Phone: 559-355-8896
Email: trinidadart95570@gmail.com