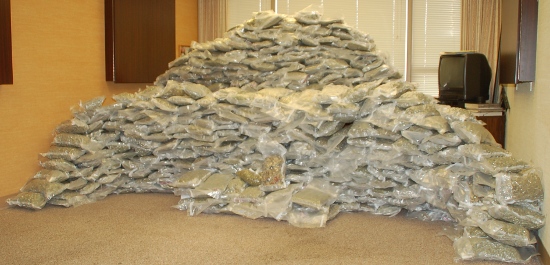 UPDATE, JANUARY 2018: Amber Zo Jamieson was never charged or indicted with any crime in relation to this case. Also, this is no longer the most weed you've ever seen in one place.
###
ORIGINAL STORY:
The Humboldt County Sheriff's Office, in cooperation with the DEA and the FBI and the U.S. Marshals, pulled off a freaky-huge bust in Fieldbrook on Friday – five hundred elbows of trimmed 'n' bagged Humboldt outdoor. Good God. Biggest bust ever?
"Packaged for sale? I don't recall any bigger," said Lt. Steve Knight of the HCSO a few moments ago, allowing that some gardens busted in the past may have yielded more if they had been allowed to fruit.
In addition to the ready-for-sale bud, the Sheriff's Office and its partners also found 300 outdoor plants, ranging in height from one to five feet. They're putting a street-value pricetag of $1.5 million on the 500 lbs. of packaged product – $3,000 per pound. Seems optimistic.
Knight said that the Fieldbrook operation came to their attention through the DEA in Santa Rosa, which would seem to indicate an informant somewhere in the chain. Two Fieldbrook residents – James Shelton and Amber Jamieson – were booked into custody, released on bail, and are now facing some very scary federal charges.
It all went down on Rock Pit Road. Backed up against all that Simpson land, if I'm not mistaken.
HCSO press release follows:
On 06-09-2011 at about 1500 hours the Humboldt County Sheriff's Office, Federal Bureau of Investigation, and the United States Marshal Service assisted the Federal Drug Enforcement Administration with a search warrant at a residence located in the 900 block of Rock Pit Road, Fieldbrook. The residence is located on a 20-acre parcel off Rock Pit Road.

Through this investigation agents located and seized 495 pounds of processed marijuana in individual one-pound bags. Agents seized 298 growing marijuana plants from the property that ranged in size from about 1' to 5' in height. The estimated street value of the 495 pounds of processed marijuana is approximately 1.5 million dollars.

At the Fieldbrook residence agents arrested James Edward Shelton age 38 and Amber Zo Jamieson age 28 for cultivation and possession of marijuana for sales. Both subjects were transported to the Humboldt County jail where they were booked on the listed charges. Both subject later posted bail.

This case is still under investigation by the Federal Drug Enforcement Administration out of Santa Rosa. Federal charges are expected to be filed against both Shelton and Jamieson. DEA is still investigating other suspects that are associated with Shelton and Jamieson and future arrests are expected.