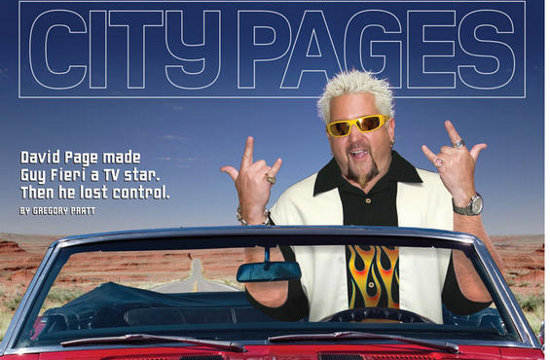 It's been a rough few days for Food Network star (and former Ferndale Wildcat) Guy Fieri. Last week, the Minneapolis City Pages ran a long story about a beef between Fieri and former producer David Page, which included some choice bits concerning the celebrity chef's allegedly retrograde behavior toward women, gays and Jewish people, as well as his simpleminded penchant for potty humor and other juvenilia.
Outlets like Gawker and Huffington Post have since glommed on, the former helpfully delving into the Food Network archives and unearthing Fieri's recipe for "No Can Beato This Taquito." Crushable avails itself of the opportunity to publish the "10 Douchiest Photos of Guy Fieri." In other words, a full-on feeding frenzy is in effect.
UPDATE: See here.
That will pass, but there's enough red meat in the original City Pages story to wound Chef Fieri for a good long while, possibly giving him some cause to regret at least certain aspects of his traditional Ferndalian upbringing:
"You have to protect Guy from all of his poop jokes," Page says. "Anytime any woman mentioned 'cream,' Guy went into a sexual riff. When cutting the show, you had to tell the editors to watch Guy's eye line, because it's always on breasts."

Fieri also needed protection from homosexuals, or at least advance warning. Early in the show's run, Page got a phone call from Fieri, who'd just walked out of a restaurant in a huff.

"Guy had decided that the two men running the restaurant were life partners," Page remembers. "He said, 'You can't send me to talk to gay people without warning! Those people weird me out!'"

From then on, show researchers were required to note any indications of homosexuality detected during pre-interviews.