---
Congressional Candidate Susan Adams on KHUM Tomorrow. Here's Your Homework.
---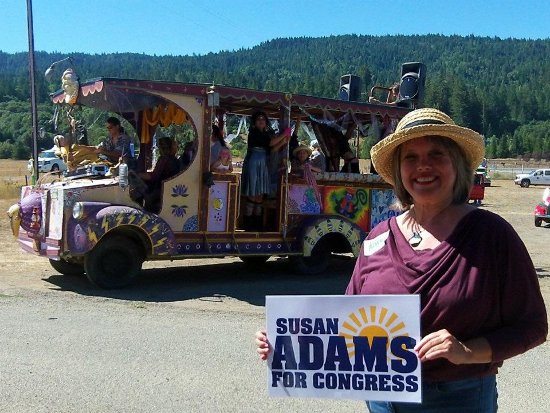 Tomorrow on KHUM, at 11 a.m. on the Mike Dronkers show: Susan Adams, Marin County Supervisor and 2012 candidate for Congress from California's. This is the second of a series of interviews with the candidates in the most wide-open state or federal race touching Humboldt Couny in almost two decades.
Come back to the Lost Coast Outpost or khum.com during the interview. As we did last week with candidate Stacey Lawson, we'll have a live chat up and running, and you'll have an opportunity to put you questions to the candidate.
WHO SHE IS
A member of the Marin County Board of Supervisors since 2002, Adams is a registered nurse and holds a doctoral degree in nursing from UCSF.
Culturally speaking, it's probably safe to say that she comes across as the most Humboldtish of any of the Marin/Sonoma candidates in the race (Jared Huffman, Norman Solomon, Tiffany Renee, Stacey Lawson, Dan Roberts) — tough but down-to-Earth, with few airs. She has family out on the Van Duzen. According to one online autobiography, she also has roots in Mendocino County.
POSITIONS ON THE ISSUES
Adams takes a pretty solid left position on just about every issue of the day — stopping the war, ending corporate personhood, taxing the rich, Occupying Wall Street — but the issue she's been talking about the most comes from her professional life: health care reform. She is a strong and vocal advocate of a single-payer health care system, and expresses hope that President Obama's legislation last year will be a first step toward that.
In an interview with Dennis Huber on KMUD this week — see below — she said that she was opposed to the Peripheral Canal, and expressed some measure of skepticism about the current deal to remove the Klamath hydropower dams.
Position papers: Health care, economy, energy independence, government spending.
HORSERACE
Seven months before election day, Adams' position is not the worst in the field, but it is far from the best. Unlike Jared Huffman, she doesn't have the backing of the Democratic Party machine. Neither does she have the hardcore lefty cred of a Norman Solomon. She's going to have to work pretty hard to squeeze out a space for herself somewhere between the establishment and the grassroots.
Still: Around Humboldt County, anyway, several politicos – Mark Lovelace, Richard Salzman – are actively stumping for her.
ELSEWHERE
• With Dennis Huber on KMUD's Monday Morning Magazine: Oct. 24, 2011.
• NCMC Debate: Oct. 5, 2011.
LINKS
Personal page concerning Marin County BoS work
PREVIOUSLY
Candidate Stacey Lawson: Preview, live chat, audio.
---
SHARE →
---
---