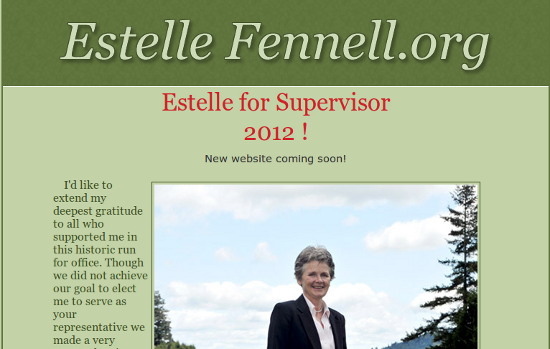 Now playing at estellefennell.org — a red-letter announcement that the former KMUD news director and 2008 Second District Supervisorial candidate is, in fact, going to seek a rematch in 2012. Now we see whether Fennell's recent tenure as the executive director of the Humboldt Coalition for Property Rights gives her the juice she needs with the all-important Fortuna constituency. (h/t Dennis Huber, @eurobureau.)
UPDATE, 11:39 a.m.: The announcement that was at the top of Fennell's Web site this morning — see screenshot above — has been removed.
###
From the Napa Valley Register and the Pee-Dee, news that Assm. Michael Allen (D-Santa Rosa) is hightailing it out of town rather than go head-to-head with our man Wes "The Chezz" Chesbro — showing, once again, that even an assistant majority leader is no match for the unstoppable juggernaut that is the Chezz.
###
But if there's less competition for the 2012 Assembly seat, mightn't there be much more for the 2012 State Senate seat? Dick Spotswood of the Marin Independent-Journal writes that it's "no secret" down his way that Evans is considering scampering away from Sacto to assume a seat on the Sonoma County Board of Supervisors.