---
Peter Pennekamp Out as Humboldt Area Foundation Director
---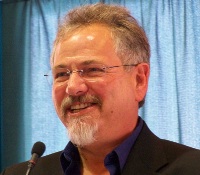 The Humboldt Area Foundation's $75 million pot o' funds and myriad grant programs mean that it plays a fairly outsized role on the local scene, and this is a pretty seismic shift for our region's foundational overlords over there on Indianola Road.
Pennekamp came to the HAF from National Public Radio, where he was a vice president for cultural programming.
Press release from the Humboldt Area Foundation:
BAYSIDE, CA (April 13, 2012) – Peter Pennekamp, Executive Director of Humboldt Area Foundation since 1993, announced today that he is stepping down as Executive Director to pursue local, regional and national philanthropic work for the betterment of communities on the North Coast.
According to Chair of the Board of Directors, Steve O'Meara, "Under Peter's leadership Humboldt Area Foundation has grown from $13 million dollars in net assets to $75 million. The Foundation is now rich in programs and services, from meeting facilities to specialized grant programs. Its affiliates, Wild Rivers Community Foundation to the north and the Trinity Trust to the east, have extended community foundation services to our neighboring counties. A wide array of initiatives has helped strengthen our communities in those nineteen years and grants in excess of $50 million have been made in the region served."

Over the last year, Peter has collaborated with the Kettering Foundation of Dayton, Ohio, exploring ideas for the improvement of democracy. His paper Philanthropy and the Regeneration of Community Democracy will be published by Kettering later this year. A two-year research project on the same topic, focused on the North Coast, will begin this summer supported by Kettering and The California Endowment. The added regional exposure should benefit Humboldt Area Foundation, local residents and communities of the North Coast alike.

According to Peter, "Humboldt Area Foundation has never been in better shape. The staff is strong and dedicated. The Board is fully engaged in its oversight responsibilities. There is never a time that is great to leave a job you love so much, but I feel confident in my ability to step down at this time without a ripple to the Foundation's operations and programs."

Board Chair Steve O'Meara echoed Peter's enthusiasm; "During his tenure, Peter provided leadership, developed and supported an outstanding staff, and has provided guidance that has helped to ensure Humboldt Area Foundation has been responsive and proactive to the ever-changing landscape of the communities of the North Coast. His efforts to support and build on the assets found within our community have led the Foundation to be recognized nationally, and our region has benefited in many ways from that recognition."

Long-time Board member, Jon Sapper reflects, "We are humbled to have had the opportunity to work with Mr. Pennekamp and thank him for his years of vision and service." Humboldt Area Foundation's Board of Directors has designated Peter as Executive Director Emeritus in recognition of his many years of leadership.

The Foundation's Board of Directors has begun the process of recruiting the next Executive Director. Our region can continue to count on the Foundation to be a philanthropic cornerstone, lending our support to improve the lives of community members.

For more information please visit the Foundation's website at www.hafoundation.org or call 707-442-2993 for a yearbook which illustrates how over 600 Humboldt Area Foundation funds and their supporters serve our North Coast communities. Please contact Paula Allen, HAF Board Member, Vice-Chair or Jon Sapper, HAF Board Member, Executive Committee at 707-442-2993 or e-mail hafbod@gmail.com.
---
SHARE →
---