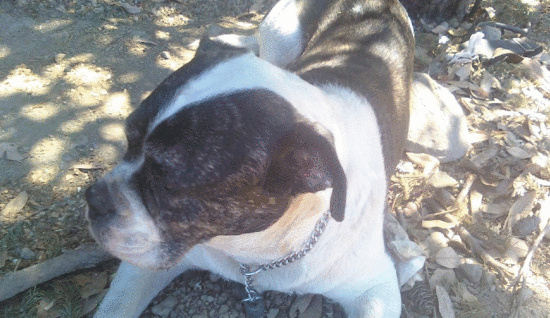 Maverick. Portrait taken at the end of his harrowing two days of wandering the Rio Dell wilderness. Photo by his rescuer.
###
UPDATE, Aug. 21: Another success story!
###
The story started out grimmish, from the standpoint of the Humboldt Paws Cause team.
"[F]ound on a logging road on Monument in Rio Dell," wrote the man who discovered a sickly brown and white bulldog-looking creature out in the woods. "It is worn out … can hardly walk. It is a neutered male."
The fellow who discovered the dog took him in, then thought to post a note and a picture to our website. Had he seen the LoCO post announcing and explaining the Paws Cause last month? Had he heard about it through our radio stations? Not clear: He's a hard-working guy, it seems, and we haven't yet been able to get in touch with him, though we did trade some emails with his wife. (Both of them delightful people, by all evidence.)
In any case, he did the right thing. Because when Josh Madrone of Trinidad woke up the next morning after a couple of heart-wrenching dogless days and working on very little sleep, he fired up the Paws Cause and found his blubbery ol' hound staring out the screen right back at him. Case status: Reunited.
Josh's tale follows. Do you have a Paws Cause success story? Send it.
I cannot begin to describe the way I felt when I noticed my dog was gone.

I recently opened a store in Eureka to market my IT consulting services, and was on a sales trip headed to the Mattole Valley. I took Bear River Ridge Road (thinking it would drop me into Bear River Valley, by the name, not having driven it before), ended up on Monument Road above Rio Dell. I had stopped somewhere along Upper Ridge Road to let the dogs (I also had his father, Malcolm with me) out to take a leak and stretch a little. Upon loading them back up, I slammed the tailgate of the truck and closed and latch the camper shell. I then proceeded to, eventually, meeting up with the intersection of Upper Ridge Road and Monument Road.

About 1/4 mile down Monument, I saw I had cell reception and came to a stop quickly to make a call. This is where I believe Maverick jumped out of the truck. I believe that the tailgate was not latched properly, and fell open on the bumpy, gravel road. When I stopped to make a call, he may have jumped out, being left behind when I took off again suddenly once my call was completed. Malcolm, Maverick's father, was smart enough to stay in the truck.

I lost many other things out the back of the truck also, mostly satellite equipment and wireless networking equipment. When I later figured out what had happened, I turned around and started searching. Eventually I got all my electronics equipment back either by flagging down cars as they approached me or by finding some myself on Monument Road when I returned. Three different cars that I stopped had found something and returned it promptly with no questions.

But none of them had Maverick. I drove back to Rio Dell, up Monument Road, and waited for two hours at the top calling his name the whole time.

Around 3 a.m. I decided to head back to Honeydew to meet my Dad, Sungnome, who was camped at A.W. Way Park, but I started falling asleep at the wheel several miles off the highway. I knew I'd better pull over and sleep for a few hours if i didn't want to die. The next morning when I awoke — three hours later, at 8:15 a.m. — I drove towards the campground and met my Dad along the way. I had customers in Petrolia that were counting on my services that day so I had no choice but to spend the day in Petrolia.

At 4 p.m. I drove back out the Mattole Road to Bear River Ridge Road and all the way across, stopping at every ranch house along the way and putting up flyers, until I reached Rio Dell. At that time I notified the police department who, to my surprise, actually helped me by copying 50 more flyers for free!

I was in distress but there was nothing else I could do at that time so I went home to Trinidad. I awoke in tears and then logged onto the Humboldt Paws Cause website — and there he was! I couldn't believe my eyes. I called the number right away and headed for the logging camp he was at (making sure to bring plenty of beer for the crew).

It was a wonderful reunion and I will be forever grateful for the service Paws Cause provides!