---
More Mandatory Evacuations at North Pass Fire near Covelo
---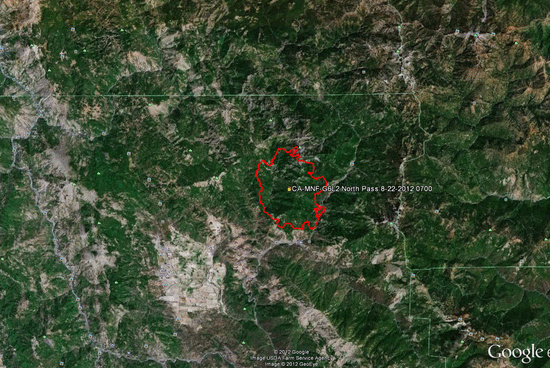 Red Area shows fire size. The town of Covelo is the large pale patch to the southwest.
Ten miles northeast of Covelo the North Pass fire continues to rage out of control. Caused by a lightning strike Saturday, the flames blazed across over 11,500 acres by this afternoon. And, at only 11% containment, much more is anticipated to ignite.
On the map above, the fire shown by the red area has engulfed Mendocino Pass Rd. which is now closed.
The Mendocino County Sheriff has just extended the area to be evacuated immediately. See below for details.
Mendocino CO. Sheriff Press Release:

UPDATE: August 22, 2012 4:00 PM

Effective Immediately- The Mendocino County Sheriff's Office has issued a Mandatory Evacuation Order for any and all residents of the following areas:

Indian Dick Road (USFS Road M1), east of the Town of Covelo, all residents on Indian Dick Road from the intersection of Mendocino Pass Road (USFS Road FH7), north, to the Trinity County Line and East to the Tehama County Line. This order includes all residences, all USFS campsites at Howard Lake Campground, Little Doe Campground and Hammerhorn Lake Campground and all USFS Wilderness Trailheads at Blands Cove, Hell Hole, Stick Lake, Foster Glade, Asa Bean, Rock Cabin, Georges Valley, Soldier Ridge, Smokehouse Ridge and Green Springs.

Blands Cove Road, east of the Town of Covelo, from the start of the Traveler's Home Wilderness Trail Head, north to the Trinity County Line.

Mendocino Pass Road, (Forest Highway 7) north and south of the highway from the Eel river work center east to the Tehama/Glenn county line, including Bauer Ranch subdivision, all private residences and forest service campgrounds.

Road Closures, Blands Cove Road and Indian Dick Road (USFS Road M1) will be closed to all non-emergency traffic in the areas noted above. These road closures remain in effect until the mandatory evacuation order is rescinded.

Anyone displaced by this evacuation order can contact the American Red Cross for housing assistance at (707)577-7609 or (855)891-7325.

Anyone having questions regarding this order can contact the Mendocino County Sheriff's Office at (707)463-6536
---
SHARE →
---