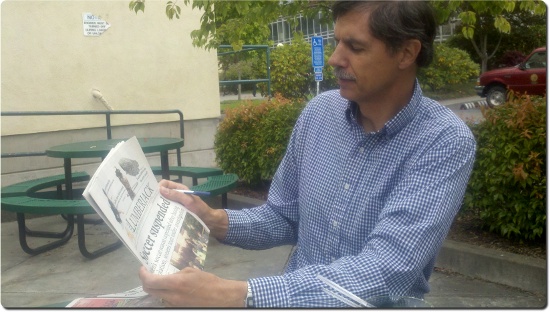 This fall election season is set to be the more boring in recent memory, at least on the North Coast. The county elections have all been wrapped up. The Arcata City Council races exploded in spectacular fashion before they got off the ground, as the Arcata Eye reported last week. For a while there it looked like we might actually witness a Congressional contest — a once-in-a-generation spectacle on the North Coast — but that fizzled early, too.
Melinda Ciarabellini is running unopposed for the Fourth Ward seat on the Eureka City Council that she was appointed to a year and a half ago. That leaves only one race of any concern to the various local political factions that infest the Humboldt Bay region: Longtime Eureka resident Joe Bonino, a former member of the local Republican Central Committee, will be challenging Second Ward incumbent Linda Atkins, the last bastion of progressivism on the Eureka City Council. Bonino's voter pamphlet touts endorsements from First District Supervisor Rex Bohn, Eureka Mayor Frank Jager and east-west railroad luminary Bill Barnum, among others.
Yesterday his campaign was officially launched. Today his campaign lunched … and did so, graciously, in the presence of your Lost Coast Outpost, so's we could put a few questions to him between stints at his desk in the Humboldt State University payroll department. For the record: Bonino partook of very little. It seemed to be a very small portion of pot roast or something, and … mashed potato? Do we have that right? He is a softspoken and enviously slim gentleman of 54.
You can listen to most of our chat below. I turned the recorder on mid-sentence; he had been speaking of his actuarial experience, his political science degree from UC Berkeley and his year's worth of service on an ad-hoc City of Eureka budget committee in the early '90s. Or you can read my very quick summary after the jump.
Bonino touts his long career as a numbers man. He's worked in accounting and budgetary jobs for most of his post-college career, at Humboldt State and Coast Central Credit Union. He used to own a Eureka bed and breakfast, and he counts his experience in the local tourism industry (and the private sector) as a plus.
He believes that in a time of budget crisis, his background in accountancy would be a great benefit for the city. The great danger, he believes, is Eureka following down the path blazed by Vallejo, Stockton and San Bernadino into bankruptcy. Not that it's much of a concern at the moment. The Eureka City Council, he says, is currently in good hands.
"Four years ago I probably had a critique," he said. "Now I'm happy with the majority. I'm happy with the way things are going, and I want to keep them going that way."
What was the problem four years ago? Bonino says that this is when opposition to Rob Arkley's Home Depot-anchored Marina Center project was at its height, and the city appeared to be the most hostile to business. In fact, he says, the Marina Center project would be a "fun" and "hip" addition to the City, and the answer to a longstanding complaint from Old Town merchants. Bonino remembers being part of an early Old Town business group that agitated for some sort of development on the vacant Balloon Track parcel, on the grounds that it currently makes for a shabby neighbor to the town's crown jewels.
"That was one of our complaints," he says. "There's no terminus to Old Town on this western side. We're losing people. We're leaking tourists. So it's been a 25-year problem, and I think that this will address that."
This is one of the two complaints against Atkins that Bonino shared during our interview — she has shown little enthusiasm for Marina Center. The other was Atkins support of a Eureka citizen's police review commission, which he described as a recipe for disaster — civilians constantly second-guessing law enforcement. He said that former EPD Chief Garr Nielsen, whom he counts as a friend, pretty much solved any sort of institutional problems in the EPD that surfaced during the aftermath of the Cheri Lyn Moore shooting, and that any other day-to-day transgressions in the department are watched by the district attorney's office.
The next Eureka City Council will hire a new city manager and a new police chief. In the latter case, Bonino said that if elected he will likely follow the lead of Mayor Frank Jager and Councilmembers Lance Madsen and Melinda Ciarabellini, all of whom have law enforcement experience. He think he's better placed to offer good counsel on the city manager hire … and what he's looking for, primarily, is the status quo.
"We've got a good city manager," he says. "I've been here 25 years, and we've had some that were — you know — start out good, and they went down. We don't want that. Dave Tyson has been really good, and so I think I'd look for someone who is like him. Someone who will stick around."
Perhaps the most unexpected aspect of Bonino's candidacy is his enthusiastic support for trail development and public transit. He says that the Eureka-Arcata trail, as currently proposed, is a potential legal minefield that the city would do well to stay out of, but that Eureka should be working to develop and connect the trails along its own waterfront.
More info: