---
How Will the Four Bridges Project Affect the Avenue
---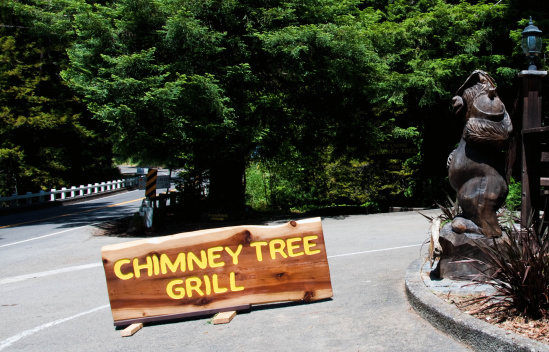 To the left, Ohman Creek Bridge, one of the four bridges Caltrans proposes to upgrade. To the right, The Chimney Tree Grill, whose owner is concerned about her business.
Because of the community's concerns about the Richardson Grove project, this afternoon's meeting about Caltrans' proposal for the Avenue of the Giants Four Bridges project promises to be lively. Already letters have been written to the editor of the local paper denouncing the proposal. The owner of the Chimney Tree Grill, when I spoke to her earlier today, worried that her business will be shut down by lengthy work and that trees near her business will be harmed. Others worry about the character of the Avenue, or say that the money should be used for different projects.
Caltrans Project Manager Richard Mullen says, however, that the work proposed is fairly minimal. "This project is to upgrade the bridge rails to current standards." Isn't the bridge deck (the width of the bridge) going to be increased? I asked. No, he said. After getting feedback from the public last year, Caltrans worked on scaling the project back while still satisfying the major concern of inadequate railing. The footprint of the new rail will be less than the current railing so it will allow a wider space across the bridge, he explained. The old railings have concrete curbs, which Caltrans is proposing to remove and replace with a sleeker design.
"Right now," Mullen says, "we are studying a concrete barrier that is wood-looking … It is not a solid rail, so you can see the view set in the channel below."
Business owners are concerned that if the Avenue of the Giants is closed to accommodate the work their shops will suffer. Mullen says, though: "Because we aren't widening the approaches, we will be able to just repave. I expect all four bridges to be done in one summer." And, he says, Caltrans does not plan to close the Avenue at all. "The goal is to keep one lane open at all times."
Caltrans press release below the break. As always remember that I am married to a Caltrans Project Manager and my father and grandfather worked for the agency also.
Caltrans Press Release:
Eureka – Caltrans announced… that a meeting to update the public on the status of the Avenue of the Giants Four Bridges project will be held on Thursday, August 23, 2012 from 4:30 p.m. to 6:30 p.m. at the South Fork High School Gymnasium in Miranda.

The project proposes to upgrade existing bridge railing to current standards at four locations on the Avenue of the Giants/Route 254 in Humboldt County. These locations are Ohman Creek Bridge, Elk Creek Bridge, Bridge Creek Bridge, and Bear Creek Bridge.

At the project update meeting, members of the community will have an opportunity to review displays and ask questions of Caltrans staff.

For more information, please contact Project Manager Richard Mullen at (707) 441-5877 or visit www.dot.ca.gov/dist1/d1projects/254_bridges/
---
SHARE →
---